Super Bowl Edition Mock!
Updated: January 20, 2013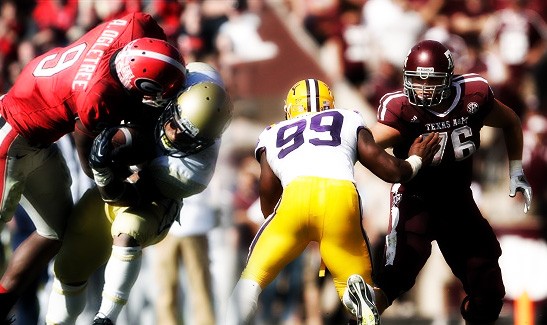 Another week, another mock draft. That's what we do here right? First and foremost I just want to thank everyone for supporting the site, making their own mock drafts, and sharing the articles. This site truly would not exist without the support of the draft community!
In the NFL two lucky teams just punched their tickets to Superbowl 47. The San Francisco 49ers will meet the Baltimore Ravens. The draft order is pretty much solid, barring the winner of that contest.
On the college side of things not much has changed. We just had the Shrine Game yesterday. Unfortunately, I did not cover the event but out of all the guys in the game Devin Taylor helped himself the most. Hopefully in the future we can have someone to cover events like that for us. (Interested? Contact me.)
A record 73 underclassmen declared to enter the draft, many of who will be early selections. Enough talk, see who made the cut below:
1. Chiefs: Luke Joeckel OT Texas AM
Another week, and we still have Joeckel to the Chiefs. As much as I want to put Geno Smith here, there isn't any news that has come out to change this selection. Andy Reid said it himself in regards to this selection the he gets in trouble when he tends to draft for need.
2. Jaguars: Jarvis Jones OLB Georgia
The spinal condition has not stopped Jarvis thus far and will not stop him from taking the second spot on the board. The top defender available, Jacksonville needs to close their eyes and select him. If he can give them anything close to what Von Miller did for Denver then this is a homerun pick for a struggling franchise. As far as quarterback… Alex Smith?
3. Raiders: Star Lotulelei DT Utah
The Raiders would be very fortunate if Star falls to three. The best defensive line talent on the board goes to a team with character issues all over their defensive line.
4. Eagles: Demarcus Milliner CB Alabama
With Andy Reid out, hopefully this Eagles team moves on from the big money free agency way of life. Milliner may not fit a specific need with Boykin and Asomugha the presumed starters next year, but anyone who saw this team last year saw that Nnamdi looked very uncomfortable in his assignments. It could have been the scheme or a sign that his best days were in Oakland.
5. Lions: Damontre Moore DE Texas AM
Jim Schwartz seems to value pass rushers and depth, and the Lions need a boost in both areas. With some of their guys getting up there in age Moore is a great pick even if he starts his career on a rotation. Werner is also a possibility as well.
6. Browns: Bjoern Werner DE Florida State
Speaking of Werner here he goes to the Cleveland Browns. Jabbal Sheard is a good player but may be better suited to move to linebacker. That would leave a hole at defensive end which Werner can more than fill.
While not a finished product yet, Werner has only been playing football for a handful of years and has turned himself into a top defensive end prospect very quickly.
7. Cardinals: Geno Smith QB West Virginia
The Cardinals have to address the QB situation. Plain and simple. As much as they could use a lineman, especially a tackle, it simply would be a waste of resources to start 2013 praying and hoping Kevin Kolb doesn't get injured again.
Smith is going to need some time to transition from the college system to a pro style system anyways.
8. Bills: Ryan Nassib QB Syracuse
Shout out to a member of the site, carterj929 who opened my eyes to the truth. The Buffalo Bills are going to select Ryan Nassib. There, I said it. Buddy Nix said he wants a quarterback, Doug Marrone is already there, his offensive coordinator is coming with him and Nassib is right there staring at them waiting to be drafted.
They've worked with the guy for three years now and Syracuse is literally 2 hours down the road. They can hit the ground running with him without the usual rookie adjustment period.
9. Jets: Barkevious Mingo OLB LSU
Sorry Jets fans. Still Mingo. I personally think Mingo will emerge as a top 5 player from this draft, but many don't hold that sentiment anymore for whatever reason.
Mingo will take over for Calvin Pace/Aaron Maybach Maybin and provide a boost into this outside linebacker corps.
10. Titans: Chance Warmack OG Alabama
Chris Johnson recently went to twitter to vent his frustrations. CJ was pretty upset with all of the subtractions and the lack of additions to this squad.
Well, he will be happy to get a top offensive lineman once again in front of him with Chance Warmack. This team goes as Chris Johnson goes… and he hasn't been going well since Kevin Mawae retired. Coincidence?
11. Chargers: Eric Fisher OT Central Michigan
Mike McCoy is in town. Can he bring the high powered offense he ran with him to San Diego? Phillip Rivers sure hopes so. He also hopes he gets some help on offense.
Denver went on a spree of drafting offensive linemen in the last two years, which I am sure McCoy understands is important; especially when the team had to unexpectedly play without Chris Kuper for stretches of 2012 (the Broncos 2nd best lineman.) Fisher will take over for McNeil and hopefully provide some long term stability for the rest of Rivers' career.
12. Dolphins: Cordarrelle Patterson WR Tennessee
I know Dolphins fans aren't going to be happy with this pick, but it pretty much has to be a lineman or a receiver. With Warmack and Fisher off the board, unless they opt for Fluker or Jones here they will go for a pass catcher.
Patterson didn't have the stat-line you'd expect from the first receiver drafted but he certainly has the ability. He will test off the charts and teams will fall in love with his potential, especially with a talented offense that features Reggie Bush (if he's re-signed) and Ryan Tannehill.
13. Buccaneers: Jonathan Banks CB Mississippi State
The Buccaneers had a pretty good year but ultimately fell apart down the stretch. Some of that can be attributed to the lack of depth on defense. With Aqib Talib in New England now, it is only right to replace him here.
14. Panthers: Kenny Vaccaro S Texas
I've said it time and time again, I just do not see the Panthers going for a first-round defensive tackle. If anything, this pick is more likely to be an offensive tackle in my final mock than any other position.
If the Cats do opt for a defender it has to be a defensive back. The cupboard is totally bare. Haromi Nakumara is not the answer, and Charles Godfrey's back-loaded contract is going to pay him over $8 million in two seasons.
15. Saints: Dion Jordan DE Oregon
The Saints are going to have to find a way to get some pressure on the quarterback when Sean Payton returns. Some people feel Dion Jordan is the best defender in this class, so this pick is great value. They will draft defensive tackles later.
16. Rams: DJ Fluker OT Alabama
The Rams have to make the next step, and the first thing they must do is sure this line up. Fluker is the definition of suring a line up. As long as he stays on the right side, I project him to have one of the best careers from this draft class barring no one. Fluker and Saffold will be the bookends Sam Bradford never had.
17. Steelers: John Jenkins DT Georgia
The Steelers are getting really old on defense all over, but one of the literally biggest holes they'll have to fill is at nose tackle. Casey Hampton is often injured and might call it a career. John Jenkins is the best pure nose in this draft, and is well over 360 lbs. Linebacker is an option as well, but there will be solid backers in round two.
18. Cowboys: Sheldon Richardson DT Missouri
The Cowboys are moving to a 4-3, they'll have to shuffle around some pieces to make the transition as seamless as possible. I'm assuming the defensive ends will be Ware and Spencer with Jay Ratliff in the middle. That leaves a spot to be filled, which the tackle from Missouri fills here. Richardson is known for his quickness and could make his mark as a penetrating DT in the 4-3.
19. Giants: Barrett Jones OG Alabama
The Giants will draft depth for one of their lines. It just depends on which line. On paper, it seems as if there is more than enough depth at defensive end so I am plugging in Barrett Jones here. Jones is a guy that can play any position on the offensive line and can push for a starting spot from day one.
20. Bears: Manti Teo ILB Notre Dame
Hold the jokes. We all know something about the Te'o story is weirdo, but hey the NFL has let guys with much worse pasts into their league. Shout out to the good people who rescued those dogs from Vick's kennel. No we didn't forget, but I digress…
On the field Te'o saw his draft stock fall due to a National Championship game where he basically disappeared. Te'o missed multiple tackles and looked slow trying to get off blocks. At 6'2 255 I don't expect him to have a great timed run, with all of the off the field things are going to dent his stock. Chicago still should draft him as he is the perfect guy to take over for Urlacher and the fans from the area already love him.
21. Bengals: Ezekiel Ansah DE BYU
The Bengals luck up in this scenario. With Michael Johnson a free agent they will have one eye on the future at defensive end. No better time to gamble on a young gun like Ezekiel Ansah. Ansah is a 270 pound sprinter meaning he has legit speed and size for the position. You put that next to Geno Atkins, and I doubt this defense sees any slow in production.
22. Rams: Eric Reid S LSU
The Rams are in the process of putting together a very good defense and the last piece would be a rangy safety. That is where Eric Reid comes in.
Word is that the Rams already like him, so it shouldn't really hurt that he ended the season with a bad game.
23. Vikings: Keenan Allen WR California
If this team is going to be a legitimate playoff team, it will start with rebuilding the WR corps. Percy Harvin should be shopped. You could argue his play-to-play value is marginal to this offense. The Vikings should move on and sign or draft a guy with legit size for the position. That's where Kennan Allen comes in.
At 6'3 210 Allen provides a big target with great hands and speed to the outside.
24. Colts: Jonathan Hankins DT Ohio State
The Colts overachieved with one of the youngest teams in football. The franchise QB Andrew Luck looked like he is the next legend in Indy but he was constantly on the run especially against teams that could generate pressure right up the middle.
Defensively this team transitioned to the 3-4 and during the playoffs depth became an issue at all three down lineman spots. Hankins can come in and push for a starting job at either end spot right away and fits the 3-4 better than some of the guys they currently have.
25. Seahawks: Sam Montgomery DE LSU
I know what you're thinking. The Seahawks don't need a defensive end, they just drafted one! The only problem is that the defensive end Pete Carroll and crew selected (Bruce Irvin) is a one dimensional pass rusher so far in his career. Montgomery is a full-time defensive end and frees up the possibility of bringing on Irvin during passing situations in a Von Miller type role. A receiver can be had in round two.
26. Packers: Eddie Lacy RB Alabama
The Packers once again struggled to find a full time running back. Yes, Aaron Rodger is great but even despite his greatness there needs to be a serious upgrade in talent behind him. Guys like Cedric Benson and Ryan Grant cannot be your long term solution.
Lacy had a good year statistically and many draft pundits, including myself project him to being a far better pro. A shifty powerful guy like that running against five-six men in the box? Man…. I hope they still have Rodgers' ring size on file.
27. Texans: DeAndre Hopkins WR Clemson
I go back and forth on this pick. I think the Texans should select a tight end with this pick, but there is nothing that makes me believe that they would look towards a end here. That makes me turn to an inside linebacker, defensive tackle/end or a pass catcher. I went for the pass catcher.
Andre Johnson was nicked up towards the end of the year and is getting a little older. He is still one of the best receivers of his era, but he can't do it all on his own. If Schaub is the real deal then get him some young sure-handed weapons like Hopkins.
28. Broncos: David Amerson CB N.C. State
As I type this, Julio Jones just burned Donte Whitner for the first touchdown of the NFC Championship. (We'll get back to Donte soon.) I am getting back flashbacks of Rahim Moore and Champ Bailey from last weekend.
The Broncos need to add legitimate talent to this defensive backfield. Even if Champ Bailey and Tracy Porter come back, I don't trust Mike Adams and Rahim Moore behind them. Not after the way Rahim Moore tried to defend Jacoby Jones like he was fielding a fly ball.
Amerson is a big corner and could very well be a better safety than corner on the next level.
29. Falcons: Tyler Eifert TE Notre Dame
The Falcons lost today, and Tony Gonzalez said that it would be his last season. The fact that he's such a big part of this offense means that he has to be replaced. Whether that is by a rookie or free agent, Atlanta has a huge task ahead in trying to replace the GOAT tight end.
30. Patriots: Tavon Austin WR West Virginia
The Pats can go many different ways. Defensive tackle and wide receiver are the best bets for this selection. Here is the thing, Welker could be gone and even if he is I think his drops are something to be concerned about. Who's behind him? Donte Stallworth? Deion Branch? Is Julian Edleman a future #1 or #2? Too many questions.
You would be hard pressed to find someone who would say that Tavon Austin isn't one of the 32 best players in this draft. He will bring some big play ability and maybe push them over the top next year.
31. 49ers: Matt Elam S Florida
The 49ers won the war, but Donte Whitner was finally exposed. Julio Jones looked like he was in the backyard on several of those plays. It isn't a secret that Whitner is a liability in pass coverage so depth at safety is an issue going forward.
32. Ravens: Alec Ogletree ILB Georgia
No weapon formed against this team shall prosper. Ray tried to tell us. We didn't listen.
The Ravens have to find their new starter in the middle after Ray calls it a career. Ogletree could slip if his off-the-field issues come back to haunt him (was suspended in the past). An extremely athletic, gifted athlete with the frame to get bigger would be great value here.