2013 NFL Mock Draft: Still Don't Believe In Geno Smith?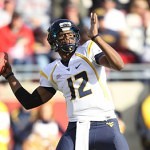 A few days ago I posted an article where I commented on the fact that both ESPN draft analysts claimed Colin Klein should be the Heisman front runner over WVU's Geno Smith.
Taking nothing away from Klein, because he is doing well, but how can you totally ignore what Smith is doing right now? At the beginning of the season Smith was looked at as another gimmick coming out of the air raid offense and was not considered a top 2013 NFL Draft pick.
Well, every week goes by and all Smith does is complete passes at an extremely high rate, and doesn't throw interceptions.
Smith wasn't even the star. He didn't do much to hurt his Heisman stock, going 25-of-35 for 268 yards, four touchdowns, and again, no interceptions
Smith is on Matt Barkley's heels right now. I don't care what anyone says.