2013 NFL Mock Draft: September 28th Edition
Updated: September 28, 2012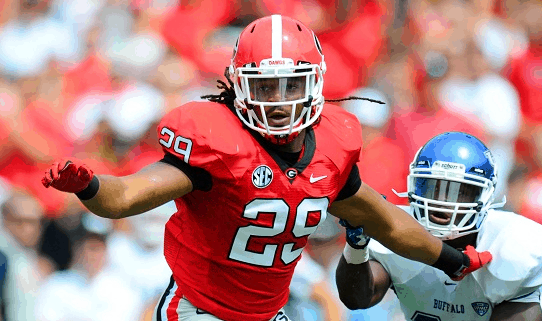 It's time, it's time for a new 2013 mock draft! With four weeks of the season already upon us it was time to factor in some injuries, needs, and rankings in an all new draft.
Check it out below. There is a shocker Quarterback pick you won't want to miss:
1. Jaguars: Barkley, Matt QB USC
If the Jaguars have the #1 pick then you know two things happened: Blaine Gabbert started every game… and Blaine Gabbert looked like Blaine Gabbert. Plain and simple if he cannot win enough games to avoid this decision being made, it will be made for him by whoever replaces Gene Smith.
2. Dolphins: Jones, Jarvis OLB Georgia
I'd have Jones #1 if I didn't have the Jaguars holding that selection. The Dolphins have needs everywhere, but grabbing the best player on the board sometimes is the band-aid your franchise needs.
3. Colts: Mingo, Barkevious OLB LSU
Andrew Luck has been up and down but all in all he is making a lot of journeymen receivers look good, especially with Reggie Wayne picking up injuries. Mingo comes in to replace Freeney who will probably find his way out so that he can return to being a true DE.
4. Browns: Hunter, Justin WR Tennessee
Most mocks have Kennan Allen here, I just decided to spice it up some and throw you Justin Hunter. It will be interesting to see who ends up the #1 WR when it's said and done.
Commentary on the Browns: they need to get a WR that can catch. Next!
5. Rams: Allen, Keenan WR UCLA
Brian Quick is not going to rebuild this WR alone and Danny Amendola cannot be counted on to attempt to break the reception record every game.
6. Raiders: Smith, Geno QB West Virginia
The Carson Palmer trade was a disaster. First and foremost let's address that. The Raiders have to smoothly brush that trade out of their minds and the easiest way to do it is to take a first round QB that can play as a rookie. There is still concern over Smith's deep ball accuracy in some draft circles but I do think he will eventually get the hype just due and command a top 10 spot.
7. Saints: Milliner, Demarcus CB Alabama
The Saints are relying on Patrick Robinson to fill the shoes of Tracy Porter who took his big play ability to Denver.
8. Panthers: Lotulelei, Star DT Utah
This team could use a WR, but not this high. Carolina's #1 problem is stopping the run. There is no one on their roster who is a threat at DT, why not fix that?
9. Titans: Amerson, David CB N.C. State
The Titans were said to have drafted Stephon Gilmore if he were available to them.
10. Chiefs: Wilson, Tyler QB Arkansas
Let's be real: Matt Cassell is a good… backup Quarterback. Not a great starter. I think they will investigate Ricky Stanzi before pulling the trigger on a new passer in 2013.
11. Jets: Woods, Robert WR USC
I saw Tim Tebow lined up to catch passes. Next.
12. Rams: Joeckel, Luke OT Texas AM
Sam Bradford needs some time to throw. I feel like I've been typing that sentence for three seasons…
13. Buccaneers: Hankins, Johnathan DT Ohio State
Is a search party about to go out for Gerald McCoy? Too soon?
14. Bengals: Werner, Bjoern DE Florida State
Michael Johnson is a great pass rusher… like 4 games a year. That is not consistent enough for what this team needs to pressure Flacco and Big Ben.
15. Bears: Teo, Manti ILB Notre Dame
Rumor was that the Bears considered cutting Brian Urlacher this offseason. That would have been a major blow to the leadership of the team but to be real about it, they probably would have been fine. This team always seems to find ways to reload but never quite gets out the middle of the pack. Maybe adding young blood on defense in the form of Manti Teo and the continued development of Cutler-to-Marshall will finally get them over the hump.
16. Vikings: Williams, Terrance WR Baylor
Percy Harvin wants a new contract, and the Vikings refuse to pay him. This won't end well.
17. Eagles: Bray, Tyler QB Tennessee
Shocked? You shouldn't be. No promises have been made to Michael Vick or Andy Reid following the 2012 season. One… or both could find himself out of a job. If that happens the new regime won't have any ties to Nick Foles and he will probably be retained just as a backup. Bray comes in as the new center piece of a new era in Philly… if… and only if Vick and Andy can't get it done.
18. Broncos: Reid, Eric S LSU
On one side of the Broncos defensive backfield is Mike Adams, and the other side is Rahim "The Dream" Moore. If The Dream doesn't start playing like the high second round pick he was, it wouldn't be farfetched to see the Broncos go in a different direction.
19. Lions: Rhodes, Xavier CB Florida State
Don't really have an explanation other than, NFC North = lots of passing. This pick will probably change.
20. Cowboys: Montgomery, Sam DE LSU
Anthony Spencer is still on this roster. Would YOU bet on him getting a big money extension? Because I'd love to take that bet.
21. Bills: Manuel, E.J. QB Florida State
Ut oh! Shocker #2! I didn't tell you there was more than one in this mock!
If Florida State keeps winning they may just win it all, and if that happens the story of the year will be EJ Manuel. He's a big, athletic QB with the tools there. He just needs time to develop. A year to study under Ryan Fitzpatrick could be just what he needs.
22. Chargers: Eifert, Tyler TE Notre Dame
Philip Rivers: is he overrated or underrated? The world will never know. We do know that Antonio Gates is developing some nagging injuries and he isn't the dominant force he once was.
23. Seahawks: Lattimore, Marcus RB South Carolina
PETE CARROLL DOESN'T USE DRAFT BOARDS
I literally said to myself "what pick would make absolutely no sense here?" and then I picked that guy. Lattimore it is.
24. Cardinals: Matthews, Jake OT Texas AM
Is Kolb the real deal? Pardon me while I laugh at that.
25. Steelers: Bell, LeVeon RB Michigan State
I don't even know if Bell, a Junior, will declare but if he does it is difficult to see the Steelers waiting around for him in round 2. Especially if Lattimore goes off the board.
26. Patriots: Williams, Brennan OT North Carolina
It looks like its time for some new blood along that offensive line.
27. Packers: Short, Kawann DT Purdue
I looked and looked for any other pick that could fit, but sometimes BPA (best player available) is the way you go.
28. 49ers: Jenkins, John DT Georgia
The beast that is Justin Smith cannot play forever.
29. Ravens: McDonald, T.J. S USC
Speaking of not playing forever, Ed Reed retires every off-season it seems like. TJ, while not the greatest defender in pass coverage, is a hard-hitting nightmare and an emotional leader.
30. Giants: Okafor, Alex DE Texas
The Giants stockpile defensive ends like no one's business.
31. Falcons: Banks, Jonathan CB Mississippi State
Right now Brent Grimes is hurt, and they are down to their third and fourth string corners. I have no idea how Banks slid all the way here, but the Falcons are glad he did.
32. Texans: Lewan, Taylor OT Michigan
Even if the Texans win the Superbowl, who will fill in for Eric Winston who's now in Kansas City?