Taylor Martinez a Draftable QB? Looks Amazing in Season Opener
Updated: September 2, 2012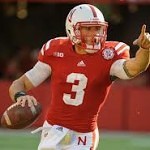 Taylor Martinez may have silenced his critics.  At least for a few games.  I remember when Nebraska couldn't even complete passes regularly, and their best weapon was Martinez moving the ball out of the option.
That may have changed.   Taylor came out today looking like he turned the corner in his development.  Against Southern Miss, a strong C-USA team, Martinez went 26/34 passing for 354 yards and not one, not two, not three, not four, but five touchdowns.
He's a Junior so he will be 2013 NFL Draft eligible…. are we looking at the 2013 CAM NEWTON?
I'll chill… but we COULD be looking at the next Russell Wilson.