Nebraska Unveils New Alternate Uniforms [Pics]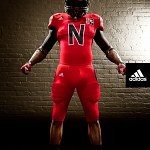 I really don't like these uniforms. Adidas is trying to mimick NIKE and their line of alternate uniforms, but this isn't the way to do it. These jerseys are just… RED. Like in your face, traffic light red.
Some people will like these though.
Pics below