Wisconsin Reveals Alternate Uniforms For Nebraska Game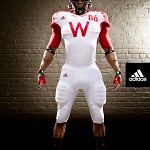 A few days ago, we alerted you of the red atrocities that Nebraska will be wearing in the classic versus Wisconsin this year. As expected, the Badgers are going to switch it up for the game as well.
The Badgers' new adidas TECHFIT football uniform highlights the history of the Wisconsin "W" and celebrates the school's rich football heritage. The white uniform features red shoulders and showcases a bold red "W" on the chest and player numbers above the heart.

Wisconsin's red helmet featuring a black face mask and white "W" and the team's adizero Smoke gloves showcasing the "W" logo pay homage to Badger pride. The reflective black uppers of the team's adizero cleats combined with the red electro-plated bottom, will bring a bright and exciting look to Wisconsin's footwear during their Unrivaled game.

The use of the "block W" harkens back to the days of Wisconsin's 1962 Big Ten championship team, which celebrates its 50th anniversary this fall. That team wore the "block W" on their helmets and went on to play USC in the 1963 Rose Bowl, one of the most famous bowl games of all time.
They should rename this game to the red bowl.