Alfonzo Dennard Arrested: Let's Wait To Draw Conclusions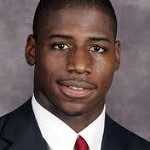 Five days before what will be the biggest weekend of his life Nebraska CB Alfonzo Dennard was arrested in Lincoln just last night. When I checked twitter this morning my twitter stream exploded with people tweeting things like:
"Dennard is an idiot"
"Dennard just ruined his draft stock"
"How could he let this happen the same week of the draft"
And to all of that I must be the voice of reason. Let's wait to hear the facts and see if any charges will be pressed. It seems that people forget so quickly that guys like Darren McFadden and Ronaldo McClain were arrested in far more random incidents not that long ago.
Alfonzo isn't an idiot. At least he doesn't seem like one on the surface. No man is going to purposely get arrested five days before the NFL Draft. From what I've read it seems like he got into it with some guys at a club or bar and struck a police officer in the melee. This looks like it could be coincidental, we don't know.
Just ask yourself would anyone you know knowingly punch an uniformed officer?