2012 NFL Draft: Alfonzo Dennard is Charged with Third-Degree Felony Assault of a Police Officer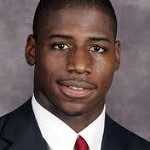 I wrote that we should wait for everything to come out before judging Dennard, and now we have it. Dennard has been formally charged and released.
This is definitely going to hurt his draft stock. Not because he has "character issues," but because the team that drafts him is going to have to pay a GOOD lawyer.
Dennard is charged with third-degree felony assault of a police officer. Police say he struck the officer during a disturbance outside a Lincoln bar about 2:15 a.m. Saturday.

Dennard was dressed in a dark blue jail jumpsuit during a hearing that lasted about a minute. He was released from Lancaster County Jail early in the evening after posting $500.

We're glad to get him out of jail," said his attorney, Terry Dougherty. He declined further comment.

Dennard's next court appearance is scheduled for May 15. If convicted, he could face five years in prison and a $10,000 fine.

Source: ESPN