Tryann Mathieu Visited McNeese State, Makes Decision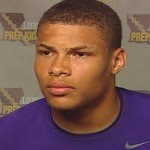 The Honey Badger weight his options after getting dismissed from LSU and ended up seeking treatment and counseling with John Lucas. While we wish the Honey Badger well on his pursuits, it will be a long year of football as we await his return.
Despite reports that Tyrann Mathieu was going to McNeese State, word is that he will sit out all year and possibly (still) attempt to come back to LSU.
Following a visit to McNeese State shortly after his dismissal, and with his name connected to at least a couple of other FCS-level programs, it was reported that Mathieu wanted to sit out the 2012 and pursue for a potential return to LSU.

While Mathieu was dismissed, the school's policy allows for a potential return, although it remains unclear whether the football program will be interested in a Honey Badger v2.0.
LSU has said Matheiu isn't welcome on the football team but we'll see how strong their stance is if they miss the championship game.