Tyrann Mathieu to Rehab, Wont Play in 2012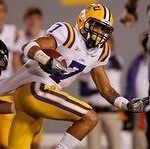 Tyrann Mathieu's father put out a statement today that said that his son, the Honeybadger himself, has decided to skip on transferring to Division II and enroll in a treatment center instead.
I applaud the decision. Tyrann cannot do anything more at this point to improve his draft stock anyways, so it only makes sense to get his life in order and prepare for the NFL Draft. Though he has said nothing on the draft, you have to assume that is where we will see him next.