Tyrann Mathieu Has Made No Decision on McNeese State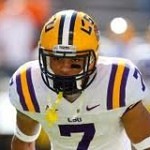 Dismissed star, Tyrann Mathieu has a big decision to make. Will he continue his playing career or will he sit out and get ready for the draft?
My advice to all guys in this position is of course to get ready for the draft. You already have enough on tape to get you drafted and the combine is only 8 months away. Just workout, get your interview/PR skills top notch and get yourself drafted.
But that is Tyrann's call to make and no one else's. Rumors have him tied to McNeese State but they cannot confirm at this time that Tyrann will join the program:
@tm7_era already transferred to McNeese! Staying in the boot #LA

— Josh Jasper (@JoshJasper30) August 10, 2012
McNeese released:
Mathieu has not made a decision on his intentions and there will be no other comments from McNeese about the issue at this time.