Michael Dyer Dismissed From Arkansas State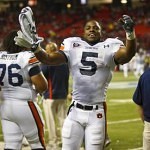 Just a few days ago a story broke about Michael Dyer and his desire to transfer to Division II. However, now football may be on pause for the former Auburn Tiger. Dyer will not be granted instant eligibility to transfer down, and he will not be with Arkansas State this upcoming season either.
Here is what his coach had to say after dismissing him from the program:
In somewhat surprising news, Arkansas coach Gus Malzahn announced Sunday night that Dyer had been dismissed from the team for an undisclosed violation of team rules.

"I am truly disappointed that it didn't work out here at ASU for Mike," said Malzahn in the statement. "I wish Mike nothing but the best in the future."
5 words of advice for Mr Dyer: Get ready for the draft.