Tyrann Mathieu Kicked off LSU Tigers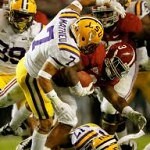 News has broken that LSU star player, DB Tyrann Mathieu, has been dismissed for breaking an unspecified team rule. He will not be with the Tigers from this point forward.
It is no secret that Tryann was caught smoking synthetic marijuana about a year ago and was suspended a few games for it. Could it be a repeat violation?
Here is all we know now:
BREAKING – @lsucoachmiles announces that CB Tyrann Mathieu (@tm7_era) has been dismissed from team for breaking a school rule

— SportsCenter (@SportsCenter) August 10, 2012
Tyrann is still easily one of the best players in the nation and still a first round pick despite this. I just hope that if he slides to my Broncos, John Elway makes no hesitation in picking up the Honey Badger..