Tyrann Mathieu Hosts 1st Round Pick Party But Will Not Be a 1st Round Pick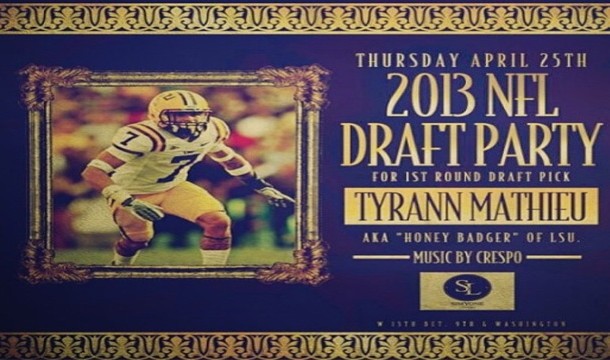 Tyrann Mathieu is just out here having fun yall. We all know Tyrann got in trouble a few months ago after his homeboys threw his picture on a flier while still playing for the LSU Tigers.
Since then Tyrann has been on a redemption tour and has put the past behind him. He claims to have kicked the marijuana habit and has stayed out of the club during his rehab.
That is until now. According to BSO Tyrann tweeted out a club flier for a "1st Round Draft Pick Party." Only problem is that Tyrann will not be picked in the first round. He obviously feels different.
It seems like he's just having fun out here. Until he fails another drug test let's give him the benefit of the doubt.