Michael Dyer Still Claims He Will Be at Prairie View A&M, Coach Says Nope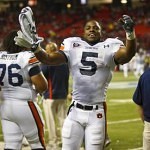 With all of these recently suspended players like Tyrann Mathieu, Greg Reid, and Michael Dyer trying to transfer down I just have to openly wonder… what good does it do to continue playing college football?
Obviously the system is not setup for the players to win. Once your name is soiled with an incident off the field your days of playing significant football are done as an amateur. Why not just get ready for the NFL Draft? The NFL doesn't care as long as you can produce because…. the players actually have to get paid. So the best ones will always be in the league.
I digress… here is Dyer getting rejected by Prairie View like a 5'10 point guard against Dwight Howard
A Twitter account for @Mike_Dyer5 said Monday night that he's heading to Prairie View A&M, a SWAC member in the FCS. However, there's another account for Dyer, @Michael5Dyer, that has not tweeted since Sept. 9.

Whether the account is a fake or not, it doesn't matter. Panthers coach Heishma Northern said he hasn't spoken to Dyer.

"I have not contacted Mike Dyer," Northern told Al.com. "None of my assistant coaches have, to my knowledge.

"I haven't talked to any coaches from Auburn, I haven't talked to any coaches from Arkansas State, I haven't talked to his high school coaches, and I haven't talked him."