Mike Dyer's Eligibility Denied, Transfers Down to Division II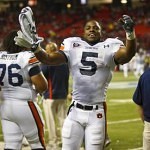 Mike Dyer was a pretty good runner for that Championship Auburn team that featured Cam Newton. Last season he decided he was going to transfer to Arkansas State, but since he has been denied the priviledge of playing immediately he will look to go to Division II Pittsburgh State instead.
Dyer, who came to Arkansas State from Auburn, had his waiver for immediate eligibility denied by the NCAA earlier this month. In transferring down a level, Dyer could play right away.

A decision should be made soon one way or the other.