2012 Recruiting: Texas A&M has 4th Best Class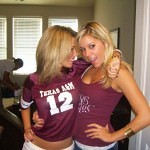 The combination of the $EC and the state of Texas seems to be too much football power in one place. In not even one off season of being in the SEC, the Texas A&M Aggies have already tremendously improved the quality of their recruits. The thing is, A&M didn't have bad players before- Von Miller, Jeff Fuller, and Ryan Tannehill were pretty good.
According to Rivals, Texas A&M has the 4th best recruiting class right now. Average class ranking prev 8 yrs: 21.75.
Things are only going to get better for the Aggies now that they are in the $EC.