Vontaze Burfict's Nightmare Offseason Continues: Fails Drug Test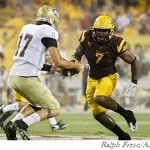 One day before the BIG DAY and we have some last minute news coming through the wire. Arizona State LB Vontaze Burfict (former projected first rounder) has apparently failed a drug test and all teams have been informed. Things arent looking good for him.
First he comes to the combine out of shape, has back and forth words with his ASU coaches via the media, and now this. I think it is a long shot that he gets drafted.
Jay Glazer with the news:
NFL teams were informed this week of 2 more players of note who have flunked drug tests: ASU LB Vontaze Burfict and Va Tech CB JayRon Hosley