Vontaze Burfict Mad as Hell Over Going Undrafted, Ready to Hit Somebody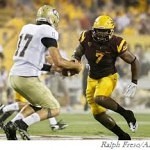 Maybe this is the motivation he needed.  After showing up to the combine in less than stellar shape, throwing Arizona State coaches under the bus, and going undrafted, Vontaze Burfict is now ready to get going.  He is vowing to make a lot of teams sorry for passing on him.
"Not being picked, going undrafted I have a big chip on my shoulder and I'm ready to hit somebody," Burfict told Joe Reedy of the Cincinnati Enquirer.
If you do not remember Burfict signed a deal with the Bengals as a rookie free agent and will be playing middle linebacker.  Let's see if he makes the roster and makes good on that threat to hit someone…
…as long as it isn't me.