2012 Combine: Vontaze Burfict's Stock is Falling According to Scouts
Updated: February 27, 2012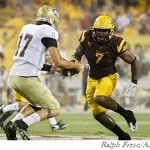 Vontaze Burfict is a linebacker that many had pegged coming out of Arizona State as easily one of the best in the Nation, if not the best player at his position.  Some people whispered accusations of character concerns and a concern for his transition to the pro scheme but for the most part everyone had him as a consensus top 10 pick.  You could see that right here on MDHQ.  Many of the eariler mocks in the year had Vontaze at the top 10.  Nowadays, he barely creeps into the 20's to the Baltimore pick.
If you had a chance to see the combine you may not be surprised to hear that professional scouts aren't feeling like Vontaze is going to be drafted in the first three rounds.
Nobody has defended #ArizonaState LB Vontaze Burfict more than me, but I am off the bandwagon. Just way too many red flags.
Scott Wright (@DraftCountdown)
Based on what I've heard and what he's done here in Indianapolis, I would not be surprised if Arizona St. LB Vontaze Burfict goes undrafted
Shawn Zobel (@ShawnZobel_DHQ)
Was told last night that one team has Vontaze Burfict in the fifth-round. Teams more concerned with bad angles than "character"
Matt Miller (@nfldraftscout)
Undrafted though? It would not be the first time that such an ultra talented player hurt himself more at the combine than actually helped himself. Now I know what you are thinking, how did he actually do? What did he actually run? Well thankfully for you I have that information right here at hand, and here it is:
40 times: 4.93, and 5.10 both unofficial.
You can imagine that has to hurt his stock. Not that 40 times are the most important part of the weekend but they are what everyone likes to look at. Fellow linebacker Luke Kuechly from Boston College ran an ultra solid 4.50 and North Carolina's Zach Brown came in at 244 AND ran a 4.45.
So do I think Vontaze Burfict will get drafted, or does he have a better chance of working at Barnes and Noble next season? (Thats no diss, b & n is my favorite bookseller actually.)
Of course he will get drafted. It just will not be in the first round. When I think of what team I think of who has the best mix of coaching staff and veterans to help this young man start his pro career on the right foot. You might say I just described a Pittsburgh or Baltimore… and maybe I just did. Or maybe some other team is out there that won't care about all this hoopla and take him a lot earlier than we all expect.
Did I just describe Oakland? Maybe I did.