2012 NFL Combine: Brock Osweiler is Really 6'6, not 6'8
Updated: February 25, 2012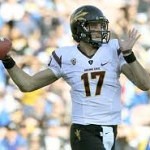 Here is the first major shocker from the combine thus far.  Brock Osweiler, Arizona State's former Quarterback came into the combine measuring in at just over 6'6… which is a far cry from the reported 6'8 that many reported him as being.  I know a lot of casual fans hyped him off his height alone it will be interesting to see if that continues.
Here are the details:
So much for Brock Osweiler being 6'8″….He's under 6'7″! For some reason I'm disappointed by that..
Credit: NFL Mocks Crew (@NFLMocks)