Ryan Tannehill = Jamarcus Russell, Says Brian Billick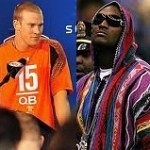 This story is starting to grab some headlines.
Brian Billick made the comparison today that Texas A&M's Ryan Tannehill could have a bad career similar to one Jamarcus Russell due to being over-drafted. Billick said Tannehill "has classic miss written all over it" and said "he reminds me of Jamarcus Russell".
"….both shot up draft boards based on how they looked in shorts."
Ryan Tannehill is a QB with a ton of upside. He is athletic, throws a nice ball, and is still growing into the mindset of a Quarterback after being converted from receiver. However, for him to be picked 4th or 3rd in the upcoming draft is quite ludicrous at this point. Don't get me wrong, it's going to happen. I just do not believe it necessarily should.
Personally the thing that bothers me the most about Tannehill is the alarming number of second half leads his team lost last year.
3 INT's against OK State, 1 Point loss
0 TD 1 INT against ARK, 4 point loss
3 INT's against OU
3 INT's against Texas, 2 Point loss
(credit NFLDraftGeek for pulling those stats)
Any team that is drafting him has to know they cannot play him quickly. It has to be a slow development. But if you are Miami or Cleveland and you trade up to get him, your fans are restless, and the seats are getting hot for upper management do you have the time to wait?