How the Browns Turned Johnny Manziel into the New Jamarcus Russell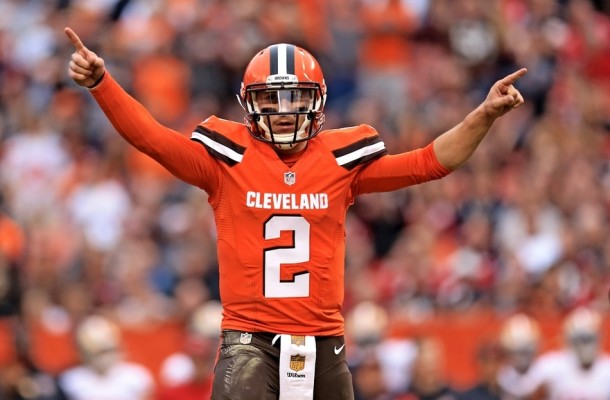 I know what you're thinking. No way. No way can Johnny Manziel be compared to Jamarcus Russell.
In this age where lazy armchair scouting has been boiled down to "black guy to black guy" or "white guy to white guy" type projections, I beg you to take the obvious modes of comparison out off the table for a minute.
Before the draft we compared Johnny Manziel to all sorts of people. Russell Wilson, Jeff Garcia, and Doug Flutie, were just some of the ones that made the most sense. But unfortunately the story of Johnny Manziel will not end with any legendary moments in the AFC or NFC title game. Instead it ended in…. Vegas?
So what does this have to do with Jamarcus Russell?

Simple.
Both Johnny Manziel and Jamarcus Russell were setup to fail. They came into the league already rich, already celebrities, and already the biggest name on the team for better or worse. Jamarcus Russell was one of the highest paid players in NFL history before he ever played a game… days after his 22nd birthday. Regularly stories would leak of Jamarcus being begged to be a professional, work harder off the field and keep a low profile. The team put their chips in Jamarcus and were determined to make it work.
Sound familiar yet?
We all know the stories around Johnny Football by now. He was already on Drake's Instagram before he played a NFL game. He was the youngest Heisman winner of all time. The Browns for better or worse needed this to work. They needed Johnny Football's brand on the field and off of it to boost the franchise. Instead, like Jamarcus, Johnny imploded under the pressure.
It's no secret both of these men turned to drinking to numb the noises around them. Jamarcus became addicted to lean, Johnny seems to prefer 4Loko if his Instagram is any indication. Ironically it was a video of Johnny signing about "Dirty Sprite" that made the Browns begin to pull the plug on him.
Instead of judging these young men and pointing the finger we need to start thinking about why are there so many top draft picks losing their careers over drinking and other vices?
Could it be the pressure is too great at age 22? Are teams asking too much of a young man too soon? Is the celebrity coming too fast?
It's probably some combination of all of this but its my conjecture that the Browns just like the Raiders failed their young QB. They failed to build a veteran team around him, failed to bring in key free agents on offense. You see that in the NBA a team like the Sixers under Jerry Colangeo took no time bringing in a trusted veteran Elton Brand to save third overall pick Jahlil Okafor from the exact same off the field problems.
You have to wonder why the Browns thought that bringing in Josh McCown to compete with and not mentor Manziel was the answer? For those that don't remember the Raiders did the same thing with Jamarcus Russell…. with Jeff Garcia.
Sometimes we forget that these are still 22 year old kids under those helmets who don't know how to handle pressure yet. For every amazing pass they can make spinning away from pressure in the pocket, there is a pressure from the game of life they don't know how to avoid yet.
Hopefully Manziel, Justin Blackmon, Jahlil Okafor, and the many high draft picks that are suffering from these same issues can get help before its too late.