Alfonzo Dennard Drafted By New England Patriots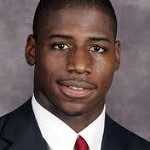 The Patriots do it again. How do they keep executing these trades? Why does the rest of the league enjoy helping them stockpile young talent?
Oh well, either way the former Nebraska CB Alfonzo Dennard will now be defending passes in Foxboro, Ma. He dropped all the way to the 7th round after getting arrested for resisting arrest during a bar fight.
Once his legal issues are cleared up, I don't expect to hear another peep of him off the field. Dropping from the first or second round all the way to the seventh is pretty sobering.
The Patriots can always use extra defensive backs and got great value in Dennard at this point in the draft.