2012 NFL Draft: First Round Live Blog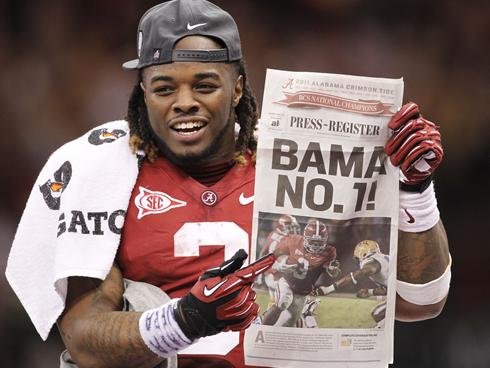 Pre Draft
First and foremost we have to talk about the big trade. The Vikings were able to wrangle a 4th round pick from the Browns to flip flop spots. The Browns will select third and take Richardson, while the Vikings move to fourth for….?
Andrew Luck to Colts
Not much to say here, you knew it was happening.
Robert Griffin III to Redskins
So.. you copped that suit at Marshalls? Just kidding. Good to see him enjoy the process and have Redskin socks ON DECK.

TRENT!
Trent Richardson goes third to the Browns. He looked excited but NIKE… you guys couldn't give these guys snapback hats? None of these hats fit.
Kalil to Minnesota
Kalil looks like he's been gaining weight. Its a wonder how Minnesota pulled off this trade but hey, it happened. They still got their guy and some extra picks.
Jags trade up for Blackmon
Teams are really buying into this new CBA. Now that they don't have to pay guys NFL record contracts, they can really make moves.
Dallas!
Dallas moved WAY UP to #6. Claiborne is on the board… ut oh!!!!!! And they take him!
Tampa moves down… for Barron?
Lots of people saying this is a bad move. But hey Tanard Jackson is gone, some one needs to make an impact for them.
Miami… you know you want Tannehill
Tannehill or Coples here. And the pick is in… its Tannehill. As if we didnt know that.
Panthers take Kuechly
A guy this team really needed. Too many injuries at the LB spot.
Bills take Stephon Gilmore
I mocked Barron here. I knew they'd go left field and take someone no one was pegging to them….
Chiefs Take Poe
Expected this.
Fletcher Cox to Eagles
Boo… Denver needed him. Only marginal DT's left. Get Martin or Fleener or anyone other than a DT please.
Cardinals snatch up Floyd
Fitzgerald wanted them to pick this guy, and they listen. I think he will be a Pro Bowl player (seriously, is this game gone for real?)
Rams take Brockers
#THANKYOUBASEDGOD Didn't want him on the Broncos. No production at all in college. Will probably be a bust, classic profile of a bust.
Bruce Irvin! Top 20 pick?!
If there was one guy that was going to go completely left it was Pete Carroll. I like Irvin (had him in one of my previous mocks) but he has to do more than just rush.
J-E-T-S take Quinton Copes
Bahahahaha LOL at the Jets fans faking enthusiasm. Coples could have been the first pick in this draft, so it's actually a good value pick.
Bengals take Kirkpatrick
Thought he would fall a little bit more, but hey… wait did they say his nickname was "SWAGGA?" Im done.
Chargers on the board….
Melvin Ingram is available. Larry English is still on the roster… two birds. One stone….
BOOMER DONT YOU DARE SAY LARRY ENGLISH IS EVER GOING TO ARRIVE…..
Bears take Shea McClellin
The first Boise Bronco is off the board. He is a pretty good player. Don't think he will ever be All-NFL/Pro Bowl but very solid.
Titans picked extremely quick…
Who could it be? Devon Still? Jerel Worthy? They need a DT. And its…. KENDALL WRIGHT?!!! WHAAT?!!!
NE moved up…. to get Chandler Jones
Cleveland… Will they do it? End the McCoy era?
THEY PICKED QUICK… here we go… BRANDON WEEDEN!!!!! McCoy is outta there. He played 20+ games, that's enough to know if he's your guy or not. He wasn't/isn't/ain't.
Lions select Riley Reiff
Really good pick. I love this pick for them. A quiet addition that will improve that line.
DeCastro to the Steelers
Great pick by a great franchise… and that's why they always win win win… *T Pain voice*
Denver Broncos pick…
TRADE? WITH NEW ENGLAND? WHAT?
Texans take Mercilus
You lost Mario… though there are pieces there, can never get enough help.
Zeitler to Bengals
Team need a guard like Lebron needs a razor (oooh). Bad joke aside, good pick.
Packers take Nick Perry
Had Perry in the mock I did for Blacksportsonline then changed it… grrrr… kinda knew he would be the pick but felt they would take McClelin if he was available.
Minnesota back on the board…
Harrison Smith snatched up before Denver. They must have been worried.
AJ Jenkins? First rounder?
No one had this in their mocks.
DENVER TRADED BACK AGAIN!
Waited all day and was prepared to shoot a reaction video for… nothing. Thanks EFX for tipping your hand and losing Harrison Smith. Now time to scramble overnight.
Tampa Takes Doug Martin
I really wanted the Broncos to get him… and he goes to the pick they traded back to…. heh… at least Denver gets an extra second round pick.
David Wilson to NYG
Called it. #salsadance