2012 NFL Draft: Ryan Tannehill Expected To Go Solidly In the First Round
Updated: February 16, 2012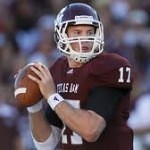 If you have been wondering where I have been, I have been losing hours of sleep coding up something totally new and awesome for everyone here at MDHQ. It will be debuting in a few days or so. I am SUPER excited to get that out.
On to today's news. It seems like everyone has a different opinion on Ryan Tannehill from Texas A&M. Some people think he is a top 10 pick, some thing he is barely a first rounder, and others think he is more of a third round guy. From everything that I have read, Tannehill is going to be a first round guy. He is rated #16 overall on Scouts Inc's top 32 board, and recently draft expert Mike Mayock chimed in with this commentary:
Expect Texas A&M quarterback Ryan Tannehill to go solidly in the first round. Mayock says Tannehill lacks some anticipation and throws into coverage, but he was ver intrigued by his skill set.

Source: ProFootballTalk

Where do you think he will go? Dallas? Seattle? Denver?!