2012 NFL Draft: Alshon Jeffrey and Vontaze Burfict Not First Rounders?!
Updated: February 17, 2012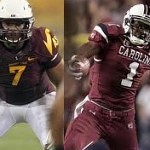 All I can say is wow. I knew both of these players were sliding, but have Alshon Jeffrey and Vontaze Burfict slid all the way out of round one? We will have to see during draft time what exactly happens, but for now all I can do is comment on what may be going on.
First and fore most, Alshon Jeffrey's stock is going to slide because of his perceived weight issues. I have seen rumors that Jeffrey is teetering above 240 these days, and I have also seen those rumors strongly refuted and statements saying that Jeffrey is going to come into the combine at the best shape of his career. I expect him to come in the combine in shape around 225-230. There is no way Jeffrey is going to let himself get out of control weeks before the biggest athletic event of his life.
The only problem is that no one can really figure out how fast he is. He isn't a burner by any stretch so the combine will be our first good look at his exact speed.
"Alshon Jeffery does not separate," said Mayock after watching Gamecocks tape. "What those guys run [at the Combine] is important. He needs to run somewhere in those mid-4.5s."

Source: Pro Football Talk
On to Vontaze Burfict. His stock has been falling ever since he was benched in Arizona State's Las Vegas Bowl Game vs. Boise State. Any time a coach benches you for a game that is a red flag. Remember, even Jim Tressell played Terrelle Pryor in their last game together when he knew major NCAA violations had been broken by Pryor and other players.
So what is the word on Vontaze?
NFL Network's Mike Mayock has watched Burfict's games. And he isn't impressed.

"I'm not a fan at all," Mayock said of Burfict on Wednesday's conference call with the media. "I just watched a bunch of his tape the other day. I came away unimpressed."

Burfict has been criticized for off-field issues as well as his on-field self control, committing a high number of personal foul penalties. Mayock said he tried to filter out Burfict's off- and on-field character when breaking down the player.

"His instincts aren't good," Mayock added. "He gets enveloped by bigger bodies and he runs around blocks. … For a big, strong guy, he's nowhere near as strong at the point of attack as I thought he'd be.

"I don't see first round at all."

Source: Pro Football Talk
I've actually heard this from a few other people as well. I would not be surprised to see Zach Brown start to take Vontaze's spot in a lot of these mocks. If a team like the Eagles are there in the second round and Vontaze is still on the board, they shouldn't hesitate.