Tyler Gabbert Will NOT Enroll At Louisville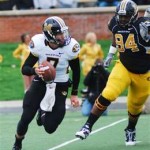 Tyler Gabbert originally intended to transfer to Louisville from Missouri where he would likely be the starting QB this fall.  In case you are wondering, yes Tyler is Blaine's little brother.
Here are the details regarding the transfer from CFT:
According to both the Card Chronicles, and ESPN radio, Gabbert has left the Cardinals football program and has no intention of returning.  No reason was given for Gabbert's about-face, and the school has yet to issue any type of clarification as to Gabbert's status with the team.  That clarification is not expected to occur until head coach Charlie Strong returns from vacation Wednesday.

In addition to leaving Louisville, Gabbert reportedly would like to return to Missouri.  The only problem with that?  His old school is apparently not inclined to reciprocate the interest in a reunion.
Tyler (@TylerGabbert) also tweeted on Twitter just yesterday:
Simple but great piece of advice, Just keep on keepin on.
Is that tweet related to this story?
I hope he figures it out and gets enrolled in a program soon.  For a young QB all the time he can get with his coaches is invaluable.  If I had to bet, I'd say you'll see Tyler back at Missouri this fall.