Top 5 Picks of the 2016 NFL Draft: Round 2
Our look at the 2016 NFL Draft continues with a look at the best picks of round two. Round two is an interesting position. It's not the "top picks" but these are generally considered elite players as well as the guys who are picked in round one.
Rounds two, three, and four are where the bulk of a successful NFL team's roster comes from. Remember, it is very rare that a team picks multiple times in the first 32 picks. It is not that rare for a team to pick five or more times in the middle three rounds.
With that said, hopefully some of these guys become NFL greats.
Here are my top five picks of round two:
1. Cowboys Draft LB Jaylon Smith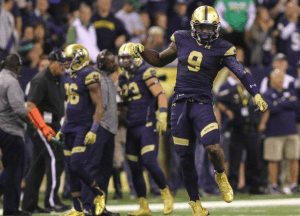 The Cowboys drafted the player who I had as the 7-9th best player in this draft with the 34th pick in the draft. I know he has a serious knee/nerve injury but if he can overcome this Jerry once again looks like a genius. Dallas needs a sure tackler in the box to help with the run game.
A big risk but Jerry Jones has never been shy…
FLIP THE PAGES BELOW TO CONTINUE