There is a 400 lb. Tight End Trying for the Draft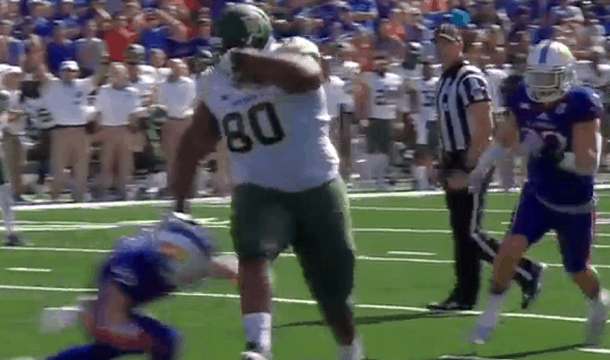 Baylor's LaQuan McGowan is not your average athlete.  Not at all.  In case you haven't heard, he is the 400 lb, yes, 400 POUND tight end that has thrown his name into the 2016 NFL Draft.
I don't need to explain to you why this is newsworthy.  It is not every day a 400 pound man decides to play a skill position.
Here are the details from NFL.com:
Tight end LaQuan McGowan — 6-foot-6 1/8, 405 pounds — ran the 40-yard dash in 5.55 and 5.41 seconds. He had a 24-inch vertical jump and 8-foot-2 broad jump. He did the 20-yard short shuttle in 5.47 seconds and the three-cone drill in 8.25 seconds. He also performed 30 reps of 225 pounds on the bench press. For a man of this size to put up these kind of numbers is really impressive. McGowan has to be the biggest prospect we've ever had at a pro day. If you want to get a sense of McGowan's athleticism, take a look at this 18-yard touchdown reception against Kansas last season.
A interesting sidebar was Shawn Oakman's disappointing 40 time as well:
Defensive end Shawn Oakman — 6-7 1/2, 289 — ran the 40 in 4.91 and 4.84 seconds, and stood on the rest of his numbers from the combine. Oakman had a good individual workout, too.
I seriously doubt any team is crazy enough to draft this guy. There are just too many athletes in better shape at the position right now. You really think someone would bring in a 400 lb. tight end and still hold the respect of the locker room? I seriously doubt it.