Mike Mayock: Carson Wentz is the Next Andrew Luck
Updated: February 24, 2016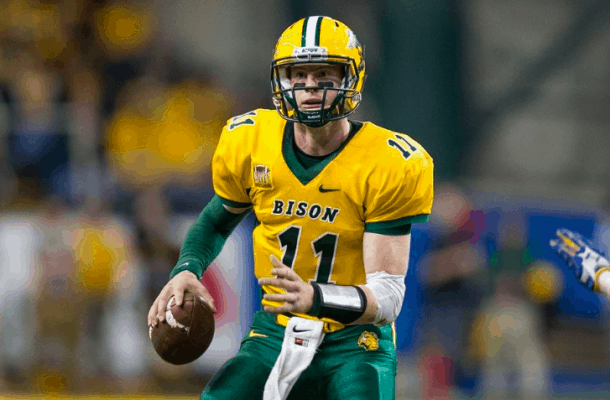 NFL draft expert Mike Mayock has spoken. And boy did he speak because his words are resonating quickly across the draft community. Mayock has exclaimed publicly that NDSU QB Carson Wentz has "Andrew Luck" type of potential. Wow, just, wow.
Check out Mayock's Carson Wentz-Andrew Luck comparison below:

NFL Media draft expert Mike Mayock says North Dakota State QB Carson Wentz shares Andrew Luck's ceiling.

"When I look at him, I see a kid that's as athletic or more athletic than Andrew Luck," Mayock said. "He's bigger than Andrew Luck. He's got arm strength comparable to Andrew Luck," Mayock said on Tuesday. "He just doesn't have the experience that Andrew Luck had at a high level coming out of college. So I see a ceiling for this kid similar to Andrew Luck. That's why I believe in this kid so much, but it's going to take a little bit of time." Luck, who went No. 1 to the Colts in 2012 and arrived with more polish, passed for 4,374 yards as a rookie. Mayock added that Wentz has drawn praise from scouts for his intangibles. "His character apparently is off the charts, that's what I was told by everybody surrounding the Senior Bowl that had anything to do with him. Smart, tough, loves the game," Mayock said. Wentz is expected to post "Luck/Newton type Combine numbers" later this week in Indy, according to former NFL scout Matt Williamson.
Andrew Luck is one of the better athletes at the quarterback position in the entire league. He's also very poised and makes very quick decisions when he has a half decent offensive line. Just look at his 2014 campaign that ended in deflated footballs and one game away from the Super Bowl. People don't even remember the whooping they put on Peyton's Broncos either.
In my opinion Wentz is much closer to Alex Smith than Andrew Luck. And when you really think about it Alex Smith is not a bad comparison at all.