What's the Best Carson Wentz NFL Comparison?
Updated: January 29, 2016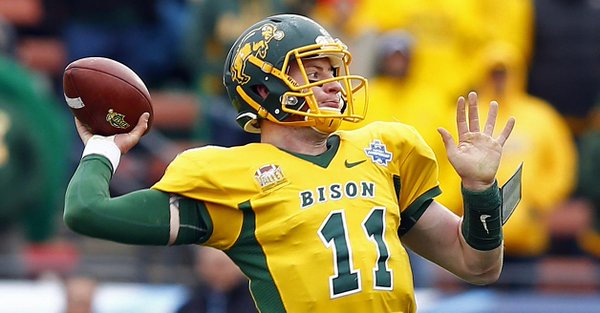 North Dakota QB Carson Wentz is getting a lot of hype these days. The reasons include his tangibles, delivery, winning pedigree and the lack of a clear cut #1 in this class.
With that said, what's the best NFL comparison for Wentz?
Alex Smith seems to be a fitting comparison for Carson Wentz. The only problem? Smith went #1 overall coming out of Utah as a spread option quarterback. I am not sure Wentz can be successful as an option QB. He hasn't been asked to do it at North Dakota but we'll see:
"He's a bigger Alex Smith…bigger body, bigger arm. Maybe not quite as mobile, but has the tools." –an NFC Scout this week on Carson Wentz

— Peter Schrager (@PSchrags) January 29, 2016
Could Ben Roethlisberger be the correct Carson Wentz comparison? I don't think so but people tend to tweet a lot of random comparisons this time of the year:
You hear some Big Ben comparisons for Carson Wentz due to the size/small-school distinction. Fitting if you like him, bad if you don't.

— Dion Caputi (@nfldraftupdate) January 28, 2016
People also are throwing around the Joe Flacco comparison but that's too easy. And Joe Flacco has world class arm strength. Until I see Wentz throw it 70+ yards through the air in rhythm, I'll chill on that.
There is also a small Blaine Gabbert comparison out there. Wentz like Gabbert will come into the league basically with two years of meaningful experience. I think Wentz throws a better ball due to his pocket mechanics but I can't lie like I've never thought of this comparison either.
So what's the best comparison? Let's hear yours.
Introducing the Carson Wentz Hype Train! All Aboard! pic.twitter.com/umnG5gdL3j

— Cowboys Nation (@CowboysNation) January 27, 2016