Updated 2016 Draft – Before Week 4 Edition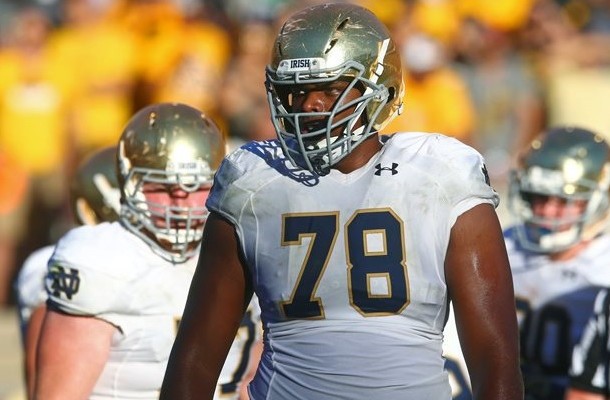 Draft community member CowboysFan is back with his updated 2016 NFL mock draft picks. Who will he have going to your favorite team? Well, read on to find out.
Reminder, you too can make your own draft over at our draft creator now!
Cowboysfan's picks below:
1. Bears: Jared Goff QB California
The Bears are a mess in all facets of football. They are even trading away players to gain precious draft picks to rebuild their football team. And the should start at QB. Cutler hasn't been good the past few years and is starting to get worse. Getting his replacement is a huge must if this team wants to compete for a playoff spot. Goff is a 6'4″ QB with good accuracy from short to mid range throws. He can also complete the tough throws as well. He has above average athleticism to run when the play breaks down. He is a student of the game as well. He has a small frame despite his height. He hasn't won many games, but a lot of that is contributed to the lack of ability from he rest of his teammates. He doesn't play in a pro style offense, taking a lot of snaps from the shotgun. He has nice accuracy, but his arm strength isn't elite, and needs to improve in this area, even though arm strength isn't everything.
2. Saints: Joey Bosa DE Ohio State
The Saints run is almost over with Brees close to retirement. The best thing for them to do is surround the future QB with talent, and they grab perhaps the best player in the draft in Bosa. Bosa is a do it all DE excelling in run defense and pass rush. He is also really strong able to arm tackle some of the bigger RB if they get too close. Very well disciplined, not losing contain in the run game. Good knee bend and pad level not allowing a linemen to stand him up. Can play DT or DE depending on the scheme. Isn't the most quick twitch player, doesn't win with quickness. Compares to Jared Allen of the Vikings.
3. Buccaneers: Ronnie Stanley OT Notre Dame
The Bucs need to improve defensively, but protecting Winston takes priority as of right now. Stanley is is a good option at OT. He has long arms and heavy hands not allowing defenders to get inside his massive frame. Also athletic getting to the second level with ease. Despite being a little raw, he plays with excellent awareness for his age. He will play high at times, but with good coaching, he can be an elite LT for a while. He compares to Tyron Smith. He may need to start on the right side first, but he can come in and play LT, just a few growing pains early on.
4. Jaguars: Vernon Hargreaves III CB Florida
The Jaguars need to improve a lot of areas, I do think it's a little early to go after Tunsil, but they still get a great prospect at this spot. Vernon is a true shut down CB with great read and react skills to combine with his elite level route recognition. He's 5'11" which isn't ideal height, but more than serviceable. Despite this he is an aggressive open field tackler, and will offer support in the run game as well. I raved about Janoris Jenkins hip flexibility a few years back, and Hargreaves is similar in this area but uses it to greater effectiveness. He can play in press or off coverage, can play in man or zone as well., Will at times take wrong angles to a ball carrier causing him to lunge. He isn't fast, but it's better than most, but his lack of truly elite speed could hurt him somewhat going against faster WR.
5. 49ers: Jaylon Smith OLB Notre Dame
The 49ers are needing help in the LB department. They fortunately draft Willis's replacement in a short year. Smith is an elite level LB with great awareness and ability. He has above average speed. He correctly diagnoses plays, and can play with aggression as well. Good in coverage and run defense. Smith needs to become more physical though as at times he just gets washed out. Needs to develop moves to shed from blockers. Needs to take better angles to the ball, and not be so aggressive. He compares to Kuechly, not as polished but it's easy to see some similarities.
6. Redskins: Jalen Ramsey S Florida State
The Redskins need a QB, but I think the Redskins finally make the right decision and not reach for a QB at this point. Instead they look at other areas. OT is a need, but a RT is too early at this spot. The Redskins need help in the secondary as well as the MLB spot. But Ramsey is such an elite talent. When it is all said and done some might prefer Ramsey over Vernon Hargreaves, but Ramsey offers more potential. Ramsey can play S, CB, or LB. He has elite speed to combine with excellent awareness. He is able to close space at a ridiculous amount of time. He can also function as a blitzer. He can cover like a CB, with the range of an elite S, and the tackling ability of a LB. Doesn't have great strength, not able to fight off a blocker if he is picked up on the blitz. He compares to former S Darren Woodson of the Cowboys. He too as an elite athlete, who was a freak of nature.
7. Browns: Connor Cook QB Michigan State
The Browns will more than likely be giving Manziel this final year to make a jump. I don't feel he will. Cook is the best QB probably left in the draft. Unfortunately that doesn't say much. He has elite arm strength and plays in a pro style offense able to make all the throws required to be an effective QB. He has great size and frame. However, he doesn't show great anticipation on his throws. He throws too many INT, and doesn't perform well in big games. Has decent speed to run, but nothing special there. Needs to work on accuracy and pocket awareness to be an effective QB.
8. Lions: Robert Nkemdiche DT Ole Miss
The Lions really miss Suh, but he isn't the reason they are losing. Still they should look to replace him this year. Ngata is a nice player, but he's old and isn't a pass rush threat. Nkemdiche brings a nastiness seen from former DT Suh. He isn't as strong, but he plays with a mean streak. He has played DE, DT, and even dropped back into coverage, and has taken offensive snaps as well. His versatility will intrigue most teams. He can make his impact known against the run, and offers help in pass rush as well. His numbers won't wow you, but the way he is played will. He at times will take plays off, he isn't the strongest player either. He will not get push if he is double teamed consistently in the ground game. Also he may only be a fit as a 4-3 DT or DE.
9. Titans: Laremy Tunsil OT Ole Miss
The Titans need help defensively, but they also need to protect their QB, if they can mimic anyone, it should be Dallas, who had a dominant ground game because of their O line which kept their defense off the field. Lewan hasn't met expectations, and the rest of the O line isn't much better. However, Tunsil offers the same nastiness that Lewan brought. He plays in the SEC so you know he has the mentality of punishing defenders. He is strong as well, able to seal off defenders, with his quickness.
10. Dolphins: Kendall Fuller CB Virginia Tech
The Dolphins have a need at LB, but it's a little early for that right now, and getting a CB and understudy to Grimes is just as important. Kendall Fuller boasts nice size and height for the position at 6'0″. He isn't supremely athletic, but more than serviceable. He plays like a veteran using his body position to swat down passes. He can play zone coverage, but it's clear that he is primarily a man coverage CB. In press he tends to play his man rather than the ball which will cost him valuable INT in the NFL, but also allows tough catches to be made. Needs to correct this area.
11. Ravens: Leonard Floyd OLB Georgia
The Ravens are in need of help in the secondary, but again it's too early for this. They could use an heir to Suggs and Dummerville, so they go with Floyd. He isn't the biggest pass rusher, but he boasts perhaps the quickest first step among pass rushers. He also has deceptive power as well. He can avoid blockers with his athleticism. Again he is a little lanky so he needs to bulk up, he doesn't boast many pass rush moves either. Instead of shedding blocks he simply tries to go around blockers.
12. Texans: Ezekiel Elliott RB Ohio State
The Texans need help at QB, but I feel they do the smart thing and avoid overdrafting a guy just based off need. They could use help on offense still though, with the lack of elite OT left, they go with Elliott. Yes the Texans have Foster, but he is never really healthy. So getting a RB to replace Foster is a must, and it will also save cap space in the future. Elliott is hands down the best RB coming out of this draft. He has elite size, strength, and speed for the NFL. He boasts excellent balance, to where if you don't bring him down completely he can still find a way to stay on his feet and pick up extra yards. He is relentless in his pursuit for the extra yard. He is excellent on counter plays possessing a great cut back move to make defenders miss. He is too strong to arm tackle as well. Before I questioned how he would do in pass protection and receiving, but so far this year he has proven those concerns to be flawed. He has done well as a receiver this year, and while he needs work on his pass protection, he has the ability and willingness to pick up blitzers. He could really help boost the Texans offense.
13. Raiders: A'Shawn Robinson DT Alabama
The Raiders I don't feel will make the playoffs, but they are slowly coming back to relevance. They boast a good QB in Carr, a potentially elite receiver in Cooper, and a young stud OLB in Mack who is now playing DE. They could try to protect Carr with an O line here, but I feel they should go with the best player available and that's Robinson. He isn't going to wow you with pass rush or sacks, but in the run game. The run game becomes very important in the cold months and in the playoffs, the ability to stop the run and the ability to run will determine just how far you go. Robinson is probably the best run defender in the draft. He isn't just a space eater though possessing some moves to make tackles for loss in the backfield. He won't however offer much in terms of pass rush, but will help the Raiders start to reach an elite level.
14. Rams: Taylor Decker OT Ohio State
The Rams are talented, but they lack offense. They don't have an elite WR, but more importantly their O line is a huge mess. Decker would ease some of those problems. Ezekiel Elliotts success could be contributed to the O line of OSU, but Decker is the leader of that line. He is a great run blocker, he isn't all world in pass protection, but is good in this area too. He boasts great size, but this is also a weakness as he doesn't win the pad level battle consistently, allowing defenders to throw him off balance. He doesn't have the snap anticipation either, so he needs to better time the snap and come out of his stance quicker. If he corrects these areas, he could enter top ten status.
15. Chargers: DeForest Buckner DE Oregon
The Chargers need to improve in several areas, but defense is also one of them. I feel that having a run stopper who has adequate pass rush ability could go a long way. Buckner is perhaps the top senior prospect coming out. Buckner is a pure 3-4 DE who I feel is better than former teammate Arik Armstead. He plays with excellent power driving blockers into the backfield. If ball carriers get into his reach he can bring them down with a single hand. He isn't a real pass rusher, but can offer support in this area to help the edge rushers out. He is not a fit for a 4-3, so more than half of the NFL teams may not be interested in acquiring his talents. Scheme fit could seem him go later than this, but it's certainly not because of a talent issue.

The Draft Continues!
Click here for picks 15-31
We got more after the jump!