New 2016 Mock: NFL Power Rankings Week 3
Updated: September 30, 2015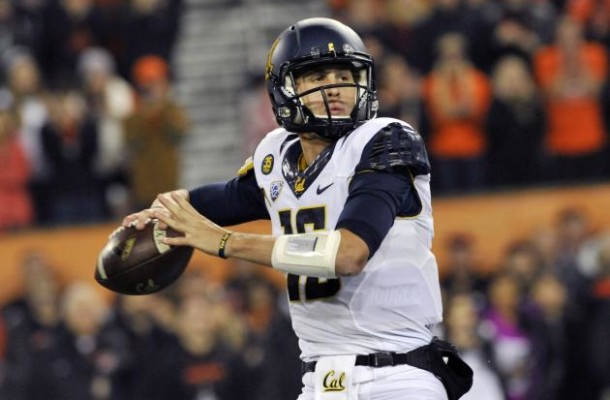 The NFL has completed three weeks of the season. So far we know that the Bears are a mess, the Patriots are still good, the Cowboys can't keep anyone healthy, the Browns don't really want Johnny Manziel and the Broncos defense is pretty awesome.
So what's going to happen after the season? Considering some teams need real help right now there is no better time than the present to project the 2016 NFL draft in mock drafts.
Our draft community member Cowboysfan has put together this wonderful set of mock draft picks with commentary.
Check out Cowboysfan's picks below:
1. Bears: Jared Goff QB California
The Bears since Trestman has become HC have been horrible, and one of the roots of those problems is the play of Jay Cutler. The Bears need a lot of talent just about everywhere on the O line and Defense, but replacing Cutler comes first. They grab the best QB in the draft in Goff. He boasts prototypical height, a good arm, and is accurate. He is a film rat, and is dead accurate at medium and short range. He also possesses some mobility. However, I said he boasts good height, but his frame needs work, he's too skinny and that can lead to injury problems in his career. While he is accurate, he isn't in a pro style offense as a lot of his snaps are from shotgun. He also hasn't won many games either, but he can put up 30 points, only for his defense to give up 31.
2. Colts: Ronnie Stanley OT Notre Dame
The Colts better start protecting Andrew Luck before he seriously gets injured or the past two performances that we saw this season will become the norm. Other than Costanzo the Colts have no one on that offensive line that can do much of anything to help protect Luck or open running lanes. A lot of fans may want to see Bosa at this pick more, but need triumphs and they go with Stanley. Stanley isn't better than Tunsil as of right now, but he does have more upside and he is actually playing. He is a very athletic football player, and would have been the first OT taken if he had come out last year. He has yet to give up a sack or pressure. He has good footwork, but needs better hand placement. He's still a little raw, but he may start on the right side similar to Tyron Smith and may force Costanzo later on to move to the right where Stanley takes over LT duties.
3. Saints: Joey Bosa DE Ohio State
I do think the offensive line and the QB need to be upgraded. Brees is still good, but he is getting old and I am not sure his current understudy is good. However, there isn't a QB worth taking, and the Saints already have two OT, and it's too early for an OG or C. They need pass rush and they are fortunate that they are able to get perhaps the best DE prospect since Peppers. Bosa is a big athletic DE that can defend the run and rush the QB, he's a difference maker at DE and can really help the Saints defense improve. Getting Bosa to pair with Jordan would make for a nice duo and revive a defense that hasn't been able to stop anyone. It would certainly make the offense's job a lot easier.
4. Lions: Vernon Hargreaves III CB Florida
The Lions are struggling as I predicted they would before the season, and some of that falls on the O line, but I feel that getting Hargreaves is far better value for this team. Hargreaves is a shut down CB who can play on an island all game long, helping the Lions secondary reach another level. He isn't all that tall at 5'11", but it's more than serviceable especially when he is a willing tackler and a force in the run game as well. He can be a little grabby, drawing flags, but that's to be expected when rules favor the offense. Getting Hargreaves will give Ansah and company a little more time to get to the QB.
5. Texans: Robert Nkemdiche DT Ole Miss
Yes the Texans need a QB, and in a bad way, but would fans and ultimately the front office be happy with taking a QB this high that may not deserve it. I don't feel there is another QB worthy of a top 15 pick in this draft other than Goff at this point. If they take Cook here, they will regret the pick. The Texans just paid a RT, so drafting one this early doesn't make sense, the secondary is actually pretty deep. But the Panthers this past week were able to neutralize Watt and Clowney and by doubling both of them, and not worrying about anyone else and it worked. The Texans need someone else to get to the QB, and Nkemdiche brings intimidating presence that could make the Texans defense elite and provide a dominating defensive front. Crick is ok, but should be upgraded. Just looking at the stats that Nkemdiche has he would be disappointing, but looking at his game tape, it's a whole different story. He is consistently being double teamed and is asked to even drop in coverage on occasion. He is a very athletic player even doubling as a FB on offense. He is an elite run defender, with pass rush ability that is still raw, but the ability is there.
6. Seahawks: Laremy Tunsil OT Ole Miss
The Seahawks, like the Colts should be drafting much later than this, but this is currently the rating so. The Seahawks O line is straight up awful, and it's saying a lot when even before this year, the Seahawks O line was awful. The Seahawks can't move the ball down the field on offense because no running lanes are opening, and every time Wilson drops back to pass, there is someone in his face. The Seahawks have perhaps the best OT in the draft fall right into their laps. Tunsil is a very aggressive and tough OT as shown sine he plays in a tough conference. He is more polished than Stanley, and he is a good pass blocker and is good at opening holes in the run game. Tunsil though could see his stock plummet since he isn't playing due to suspension until an investigation is over, and has had injuries in his past as well. But the talent is there, and would help the Seahawks O line tremendously it couldn't get any worse.
7. Eagles: Kendall Fuller CB Virginia Tech
The Eagles need help in the secondary as it is still a problem. While Ramsey may be a good pick here, Fuller I feel is more of fit in the secondary for the Eagles. Fuller isn't as good as Hargreaves, but he's still a good CB in college, he too is a shut down CB who is 6'0″ with solid speed, and may be better than Kyle Fuller as well. He is a willing tackler, needs to do a better job at playing the ball, but he would really help the Eagles defensive front gain an extra second to get to the QB.
8. Ravens: Taylor Decker OT Ohio State
The Ravens unfortunately do not have a good pass rush right now, but their OT are awful and they need to get an improvement before things get worse in the coming years. It is a little early for Decker, but he is a very talented OT that could help open run lanes and protect Flacco. He is the leader of the Ohio St. massive O line, and can provide a sense of toughness as well.
9. Giants: Jack Conklin OT Michigan State
Believe it or not the the O line was a strength of the Giants team a few years ago. And the Giants better improve this area unless they want to see their team continue to struggle. Conklin is a tough football player that is more of a run blocker, he has stone feet and his footwork is not pretty, meaning he may have to move inside to OG in the NFL, but the Giants need help anywhere on the O line.
10. Buccaneers: Jalen Ramsey S Florida State
The Bucaneers need O line help, but taking anyone here is a bit of a reach at this point. Ramsey would be a God send. McCoy and David are monsters at their respective positions, but no one else on that team concerns you. Getting an intimidating S or CB would help alleviate some of those concerns. Ramsey plays with such swagger and his play backs it up. He's a playmaker, and covers ground quickly he's also 6'1″ as well. He has coverage skills of a CB and the tackling ability of a LB, which makes him an excellent FS prospect, but he can play CB as well.
11. Raiders: A'Shawn Robinson DT Alabama
For the past 3 drafts, the Raiders have taken the best available players, and drafting guys who have no off the field concerns, and Robinson fits that bill. He isn't going to provide much pass rush, but he will provide excellent support against the run, there isn't a better player at his position at defending the run. He can make tackler for loss as well as stuff runs before they get started. Pairing him with Williams and Mack, would start to form an intimidating defensive front. The Raiders could also go with Cravens.
12. Rams: Max Tuerk C Southern California
The idea that interior linemen are not worth a 1st round pick is starting to become an old idea as some of the best players the past few drafts have been OG drafted later in the first round. Tuerk is a C who can play any position on the offensive line. The Rams have talent almost everywhere, but the O line needs to get better if the Rams are going anywhere.
13. Jaguars: Vadal Alexander OG LSU
Again O line is a huge need for most teams and teams may start to follow the Cowboys recent success and draft O line early regardless of position. Alexander is a prototypical OG big nasty and a road grader. He will roll over anyone and will occasionally get to the second level leveling poor LB. The Jaguars O line needs to improve, or Bortles will continue to look bad.

The draft continues!
Click here for picks 14-32
More picks after the jump.