August 2016 Mock Draft by CowboysFan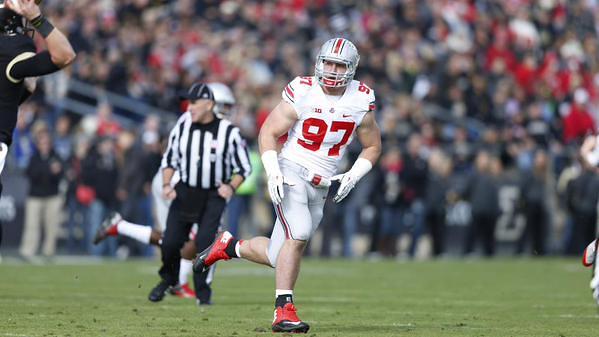 August is upon us. The Hall of Fame game has been played, the jackets have been given out, and the greats have been enshrined in the halls of history.
Now that's out of the way, it is time to look forward to the future of the game and there is no better way to do it with a new 2016 mock draft! Cowboysfan1993 from the draft community has blessed us once again with his mock picks, so let's just get right into them.
Picks below:
1. Buccaneers: Joey Bosa DE Ohio State
Bosa depite his recent issue is still the best player in this draft. He's good against the run and pass. He wins primarily with power but can use quickness to beat his man. He's a real player in college and everything he has done so far should translate. The Bucs have talent in the receiving options, and hopefully Winston is their QB for the foreseeable future. They could use help along the offensive line but you have to take best player available that fits a need. Outside of guys like Lavonte David and Gerald McCoy the Bucs don't have anyone defensively. They need talent here and adding Bosa provides an very scary duo of pass rushers for the Tampa Bay Bucs. If you want Winston to succeed you have to add talent around him and that goes for both offense and defense.
2. Titans: Ronnie Stanley OT Notre Dame
The Titans are not a very good team, and need talent just about everywhere, but protecting the QB should always come first and drafting Stanley would really help the Titans ensure a successful first few years for Marcus Mariota. Stanely had he come out this year, he would have been a top 10 pick and the first O line taken in the draft. He is very young a little raw, but even so he is still a sound prospect. Think something similar to Tyron Smith. Tyron is still only 23 and has been in the league almost 5 years already.
3. Jaguars: Vernon Hargreaves III CB Florida
Best player available always go this route if possible. The Jags were a top defense in terms of pass rush but still gave up yards through the air. Vernon Hargreaves is a true shut down CB capable of playing zone or man. Can tackle is physical and limited Cooper to 50 yards. He's also fast. Not the tallest guy at 5'11", but his talent outshines that lack of elite height.
4. Raiders: A'Shawn Robinson DT Alabama
I went Robert Nkemdiche in my previous draft, but looking at how the Raiders have drafted the last two years, they seem to want to go with safer picks over a raw player with potential. A'Shawn Robinson is still very good though. But he is a safer prospect than Robert. Robinson possesses elite size at 6'4″ 320 pounds. He anchors well in the run game and takes on double teams well. He isn't much of a pass rusher though, which can really hurt his stock and potentially even fall to the second round. But even so he's already elite as a run defender, and can make Kalil Mack's job a lot easier allowing him to make more plays.
5. Redskins: Jared Goff QB California
RG3 experiment has failed some of that is attributed to the coach and to the management but even so RG3 hasn't been able to cut it at this level QB must be here. Ultimately Goff has the most potential to be an elite QB at the next level, while also being safer than Hackenberg. Goff can make all the throws, but you would like to see better arm strength, has some mobility.
6. Jets: Connor Cook QB Michigan State
Bowles knows that defense wins games and championships, and may look to go after a safer QB over one with potential. Cook may not be the best QB, but he is safe and has won games with Michigan, he won't kill teams by making mistakes. He can make every throw, and great pocket presence, better than average mobility. But he can be inaccurate at times and his stats show that, will be limited to a more game manager role.
7. Bears: Jalen Ramsey S Florida State
Cravens is a good player too, but Ramsey is a FS which is harder to find. Ramsey is a good cover guy who has good field awareness, and brings devastating hits. He plays with swagger and likes to run his mouth but he backs his talk up. He has made big plays in big situations and FSU wouldn't have had an undefeated season last year if not for him. He will be playing CB this year, and if he is successful he offers further value to the Bears defense.
8. Falcons: Laremy Tunsil OT Ole Miss
The Falcons need pass rush, but they still need O line. Ryan needs help on offense if the Falcons want to get out of their rut. Tunsil is a good prospect on the O line.
9. Giants: Robert Nkemdiche DT Ole Miss
The Giants aren't shy about taking raw prospects and most of the time it works. But the Giants seriously need help on the O line and D line. Robert offers more value here though. Robert can play DE or DT, probably better suited for DE, because he hasn't shown he can take the pummeling inside as a DT. He is a mean player Suh esque in that regard. His stats don't show everything though.
10. Rams: Laquon Treadwell WR Ole Miss
The Rams have a lot of talent on their roster, they should be winning more games, however their offense does hold them back. They were able to get a franchise RB in Gurley. But I do feel they are missing a WR. O line is an option as well here, but I feel that they need weapons on offense. Tyler Boyd I feel is a better player than Treadwell, but his recent issue may force him down some team's boards. Treadwell is still talented though, Dez Bryant esque the way he is physical and can high point the ball.
11. Vikings: Shilique Calhoun DE Michigan State
The Vikings I feel are a team on the rise, but could improve their pass rush a little they get it with Calhoun.
12. Browns: Christian Hackenberg QB Penn State
I wasn't a fan of Manziel coming out of college, and still am not a fan. And the Browns patience may already be wearing thin. I feel that they need a QB. They take a chance on Hackenberg. Christian is a talented player who can make all the throws and has tremendous arm talent and surprising athleticism. But he takes unnecessary sacks at times and I question what he sees on the field. But not all of this is his fault. His O line is among the worst I have seen. Guys leak out as soon as the ball is snapped, and not to mention the receivers don't get open. Hopefully he has a better team around him this season, if not Hackenberg could fall all the way to the end of the first round.
13. Saints: DeForest Buckner DE Oregon
The Saints need help any where and everywhere right now primarily in the pass rush department. Some want Oakman here, but I feel that Oakman is better suited for the 4-3 than the 3-4. Buckner is better than former teammates Arik Armstead who went to the 49ers.
14. Dolphins: Shawn Oakman DE Baylor
The Dolphins could continue to beef up their pass rush and defensive line with more talent in Shawn Oakman to create a truly fearsome D line. S was an option, but with Ramsay gone I feel that Cravens is the best left, but they already has a SS.
15. 49ers: Jaylon Smith OLB Notre Dame
The 49ers LB unit has taken a huge beating. They need replacements. And Smith is a nice safe option. He is in on every play, and when the scouting process starts, I feel that Smith will vault up draft boards. I feel he is a similar talent to Willis.
Click here for picks 15-32
The draft continues after the JUMP!