Latest 2016 NFL Mock Draft Picks by CowboysFan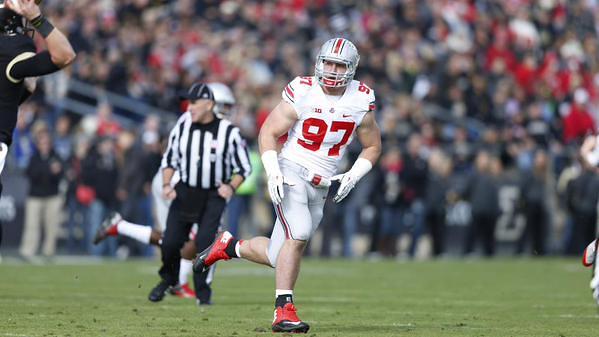 July is winding down and you know what that means: football is right around the corner. I know everyone is excited, but please believe no one is more excited than a draft enthusiast!
One of our community members, CowboysFan1993 has released his latest picks in a very detailed July mock draft. Check them out below.
Picks below:
1. Buccaneers: Joey Bosa DE Ohio State
The Bucs would be stupid to pass on a talent like Joey Bosa. They got their QB next year. The only other option would be OT Ronnie Stanley to bolster their O line. But pairing Bosa with McCoy is simply too good to pass up. Some view him as JJ Watt, no he is not quite that player, but he is similar to guys like Peppers and Allen.
2. Titans: Ronnie Stanley OT Notre Dame
I wouldn't be surprised if the Titans drafted this high again next year. They do not have a talented team and need a lot of help. Getting a WR for Mariota would be nice, but keeping him off his back seems like a far better idea. Stanley can play RT or LT, and is the most well rounded of the offensive linemen coming out this season.
3. Jaguars: Vernon Hargreaves III CB Florida
I would have put a WR here, but they drafted several last year and may want to wait a little while before giving up on them. Hargreaves is the best CB coming out this year. He is a shut down corner with really good speed and can lock down the best WR college has had to offer. He is a little on the small side at 5'11", but it is more than serviceable.
4. Raiders: Robert Nkemdiche DT Ole Miss
The Raiders are slowly building a talented roster with stud OLB Khalil Mack, an up and coming QB in Derek Carr, and Gabe Jackson last season. They then added Amari Cooper a very talented WR. The Raiders could still draft this high again at have improved. They could go O line here, or even RB like Ezekiel Elliott, but drafting a RB high wouldn't be the best idea, and the remaining O line is not worth drafting this high. So going defense seems like the next logical step. They need some nastiness up front and you get that with Nkemdiche. His stats don't tell the whole story, he requires double teams, and is a load in either the run or pass. Very quick for an interior defender who is just coming into his own.
5. Redskins: Jared Goff QB California
The RG3 experiment is over, and the Skins need to get a QB. Goff may be drafted first just because of the fact that Aaron Rodgers was the last QB to come out of Cal. He is very strong armed, and athletic.
6. Jets: Christian Hackenberg QB Penn State
The Jets haven't had a QB in a long time. Getting Hackenberg seems like a no brainer. Sure he took a step back this season, but he is very talented. More athletic than he looks. Got a strong arm, can be very accurate. Issue is that he will hold on to the ball too long and take unnecessary sacks.
7. Bears: A'Shawn Robinson DT Alabama
The Bears have been horrible under Trestman. They could use O line help, but defense is the priority. Sure a S would be nice, but pass rush and run stuffing ability should come first.
8. Falcons: Laremy Tunsil OT Ole Miss
The Falcons are talented but need O line help. Tunsil is very talented, but needs to stay healthy.
9. Giants: Shawn Oakman DE Baylor
The Giants need defense, and have prided themselves on their pass rush. With the injury to JPP, they need help anywhere on the D line. Getting Oakman would be huge. He is an impressive 6'9″ DE, with incredible strength. He needs to improve his game though as he is still raw.
10. Rams: Tyler Boyd WR Pittsburgh
The Rams have a talented roster, but part of their problem has been their WR as Tavon Austin has been a bust. QB could be taken here, but until Foles fails, WR is more of a priority.
11. Vikings: Shilique Calhoun DE Michigan State
The Vikings need pass rush and Calhoun is a nice option.
12. Browns: Cody Kessler QB Southern California
Never been a fan of Manziel, and the Browns by season's end may be fed up with his antics.
13. Saints: DeForest Buckner DE Oregon
The Saints need a pass rush badly and Buckner provides that, but more of a run stuffer, he is better than 2015 first rounder Arik Armstead.
14. Dolphins: Kendall Fuller CB Virginia Tech
The Dolphins were able to land the next best CB in Fuller, some may feel Fuller is better than Hargreaves. Fuller is taller and slightly more physical. He isn't as good in coverage as Hargreaves, but he is still considered a very well rounded coverage CB.
15. 49ers: Jaylon Smith OLB Notre Dame
I think the 49ers are pretty much done, they lost way too much especially in the LB group. They need help there, and Smith is maybe the safest pick at the position. He can play in coverage, and can really fly to the QB and to the RB.
That's not all! Click Here to See the Rest of the Picks
Picks 15-30 after the jump.