Early 2016 Mock Draft – Pre Training Camp Edition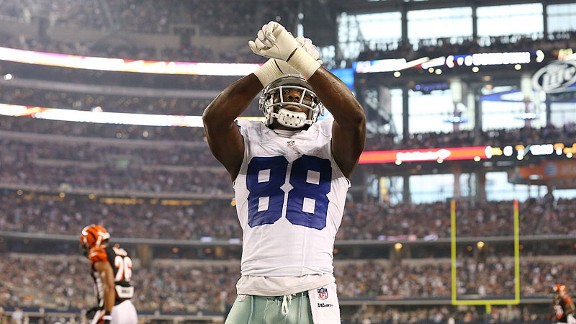 Checkout this new mock, titled 'Early 2016 Mock Draft – Pre Training Camp' by cowboysfan12. He says it's a little too early for a mock but you know it's never too early!
Cowboysfan put a ton of work into this so we had to feature it over here. Feel free to leave a comment, or create your own mock if you think he went way off track somewhere!
Picks below:
1. Jaguars: Joey Bosa DE Ohio State
Even if Blake Bortles doesn't improve much this year, he'll still likely get one more shot at being the franchise QB for the Jags. Bosa was one of the most dominant players in college football last year, and adding him to pair with Dante Fowler when he comes back from injury next year will make the Jaguars defense scary.
2. Titans: Ronnie Stanley OT Notre Dame
It will likely take some time for Marcus Mariota to adjust to the NFL. The Titans will have to put some solid pieces around him, and adding Stanley to pair with Taylor Lewan will make for two nice bookends to protect the new franchise QB.
3. Browns: Connor Cook QB Michigan State
The Browns have one of the worst QB situations in the league. No one expects Manziel to pan out, and the Browns will likely be in the market for a QB come draft time next year. Cook likely would've been a high first round pick had he declared last year, but he chose to stay for his senior season. If he continues to play at a high level, he will probably be considered a top-five pick, and in this scenario the Browns will try, yet again, to get their QB by selecting him.
4. Redskins: Christian Hackenberg QB Penn State
If the Redskins are picking this high next year, it means RG3 failed to deliver once again, which means it's probably best to start over at QB for the Redskins. Hackenberg has all the physical tools to be a top QB prospect, but he took a bit of a step back last year with a poor supporting cast. With a strong campaign this coming season, he should solidify himself as one of the best QBs in the draft next year.
5. Raiders: Vernon Hargreaves III CB Florida
The Raiders don't have much depth at the back end of their defense, but drafting Hargreaves would instantly give them a No. 1 corner. He's the best cornerback in the SEC and arguably the entire nation, as he's been a bright spot for the Gators as they've struggled the past two years.
6. Buccaneers: Laremy Tunsil OT Ole Miss
The Bucs got their franchise QB in Jameis Winston, but now they've got to build around him. Tunsil would immediately slide in as his blindside protector on the subpar Tampa Bay offensive line.
7. Jets: Cardale Jones QB Ohio State
The Jets look like they finally have a solid foundation in place for the team, but with the Geno Smith at QB, they won't be going anywhere anytime soon. If Jones can pick up where he left off last season, he should be drafted in this range.
8. Falcons: Jalen Ramsey S Florida State
The Falcons made an effort to improve their defense during the offseason, but the overhaul needs to continue into next year. Ramsey is hands-down the best safety prospect in this draft, and would form a solid tandem with William Moore in the Atlanta backfield.
9. Bears: Myles Jack OLB UCLA
It's tempting to put a QB here, but the Bears are probably stuck with Jay Cutler for the forseeable future, what with his monstrous contract making him virtually untradable. They could continue to improve their porous defense by selecting Jack, a highly athletic linebacker who always plays running back at UCLA. He would be an ideal replacement for the aging Jared Allen.
10. 49ers: Jaylon Smith OLB Notre Dame
The 49ers once had one of the deepest linebackers corps in the NFL. That is no longer the case with the sudden retirements of Patrick Willis and Chris Borland. Smith has been a highly productive player at Notre Dame, and should slide in and start right away next to NaVorro Bowman.
11. Chargers: Robert Nkemdiche DT Ole Miss
Getting the former No. 1 recruit Nkemdiche here would be a steal for the Chargers. He would form a competent duo with Corey Liuget on the San Diego defensive line.
12. Saints: A'Shawn Robinson DT Alabama
The Saints look to upgrade their defensive line with this pick, taking Robinson, who has improved every year at Alabama, to pair with one of the best 3-4 defensive ends in Cameron Jordan.
13. Giants: DeForest Buckner DE Oregon
Jason Pierre-Paul's incident was unfortunate, and it's unknown how it will affect his play going forward. Regardless, the Giants need to improve their pass rush, and Buckner will help them with just that.
14. Vikings: Tyler Boyd WR Pittsburgh
Getting more weapons for Teddy Bridgewater is not a bad route to go for the Vikings, especially if Cordarrelle Patterson disappoints again this year. Boyd is one of the top receivers in the country and could start next to Mike Wallace right away.
15. Bills: Jared Goff QB California
The Bills have a talented roster, but that can only take them so far considering their QB situation. Goff is one of the top underclassmen to keep an eye on this year, and he would be an instant upgrade over what the Bills currently have at the position.
Click Here to Read Picks 15-32!