Live Draft Blog: Free Jahlil, Nerlens, and Embiid!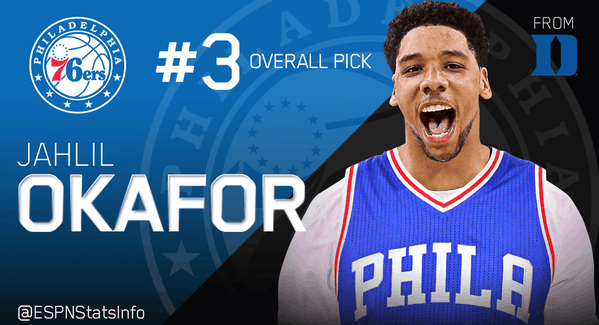 Jahlil Okafor's slide stops at number three overall. Sadly, I don't think anyone wanted to get drafted to Sam Hinkie's experiment in Philadelphia.
The 76ers now have Okafor, Joel Embiid (has never played an NBA game), and Nerlens Noel. Three young centers/PF's all under 23 years old.
Yeah… this is not going to end well for someone. I look for Nerlens to force his way away from this experiment.
At a certain point the spreadsheet guys have to start fielding competitive teams that make sense, and not just hoard high draft picks.
THE SIXERS HAVE ANNOUNCED THEY ARE KEEPING OKAFOR!
#FREEDAGUYS