If You're a GM and Your Team REALLY Needs a Long Term Solution at QB…
Updated: December 19, 2014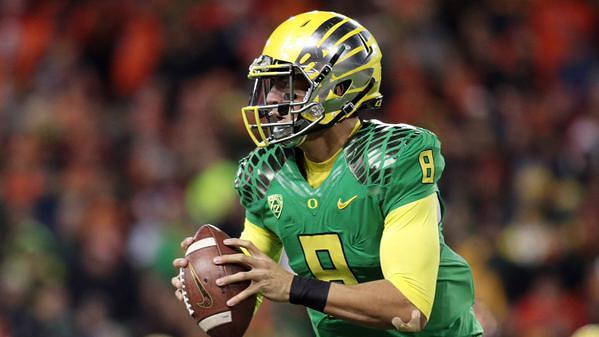 This wraps up a week of your questions on the 2015 NFL Draft class. We have chopped it up right here on MDHQ on a lull of topics regarding this class including sleepers, my favorite players, and players who are going to be very risky picks in 2015. There is talent there, but also a lot of risk in this year's class.
Here is the question:
if you're a GM and your team REALLY needs a long term solution at QB… who do you draft?
Now first and foremost, there isn't an NFL team that is brave enough to give YA BOY a shot at general managing. It goes without saying that this is totally hypothetical.
The correct answer is that I wouldn't pick ANY of them. There are too many questions with this class. Jameis Winston can't stay away from the bul#### in his life. Love him on the field but I can't give him the keys to the franchise.
Marcus Mariota comes from an offense that relies on simple pre-snap reads (hence why he struggled with Arizona who disguised coverages with a 3-3-5.) Colin Kaepernick also came from an offense that didn't require him to make detailed post snap reads now he struggles at finding receivers as a pro.
Brett Hundley has inconsistent mechanics and that's already lead "Mr. 6 Players Traded for Me" Robert Griffin III to the bench in his third season. The rest of the quarterbacks have red flags and are excellent at one thing or another but very inefficient at everything else. Connor Cook is staying in school as well which doesn't help round out the class.
If I HAD to pick someone I'd guess you'd trade the farm and get Mariota. He has the elite dual-threat skill set that has taken over the league and zero character issues. I'd want to bring in a coach with him that knows how to use such players without asking them to make a quantum leap in their processing of the game. Mike Shanahan's first year with RGIII and implementing the pistol in Washington is a great example of this concept.
Check out the other questions that were answered this week: here.
And as always, check out the latest mock drafts here and here.
Thanks for the question:
@MockDraftHQ if you're a GM and your team REALLY needs a long term solution at QB… who do you draft?

— Jabari Before Parker (@bariiisworld13) December 13, 2014