2015 Mock Draft: The Curious Case of Shawn Oakman
Updated: October 14, 2014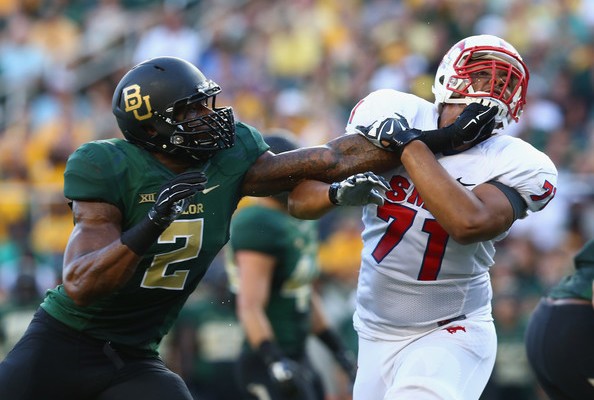 Baylor DE Shawn Oakman is one of the biggest enigmas in this year's draft class. So much so, I had to publish this post to compile my thoughts on the 6'9 250 defensive end. Ever since I've noticed that people are consistently mocking him in the top 3… I had to wonder why?
There is a strong part of me that looks at his measurables and goes, "Screw it put him #1! He's the next Mario Williams!" However, when I watch Baylor games I rarely notice Oakman and when I do it's never in the way you noticed a Ndamukong Suh at Nebraska, or even a Barkevious Mingo at LSU.
#Oakmanissobig that he inspired a hash tag, but he isn't inspiring me to mock him in the top 10. A 6'9 250 guy that can drive and tweet at the same time absolutely should be drafted before the middle of the first round but Oakman just isn't there yet.
On video he's not particularly dominant. He lacks a money bull rush and uses a simple sweep technique to get past blockers. The only problem is he always looks confused at to how to pursue the play if it isn't coming right at him. This results in far too many instances of Oakman being left in the backfield perplexed and jogging to the action.
I'm not bashing the guy at all. Believe me, I really want to put him #1 on my next mock draft but I just can't if I don't see him executing the level of dominance the aforementioned Suh or Mingo displayed in college. Oakman has all the tools but lacks something that those great players had. Maybe its technique, maybe its instinct. Whatever it is I hope he figures it out and doesn't turn into another case of "what should have been" in the Vernon Gholston and Jarvis Moss territory.