Eagles Only Mock Draft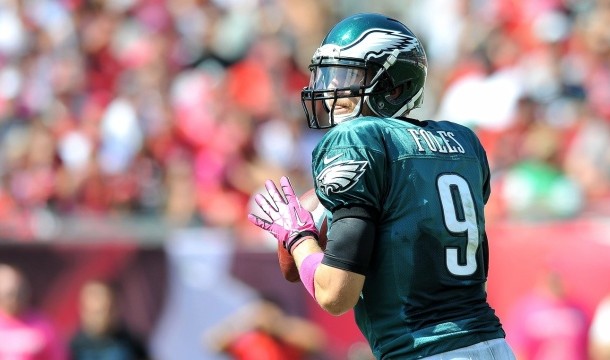 Eagles Only Mock Draft:
1. (22) Marqise Lee, WR, USC:
I think that Kyle Fuller, Anthony Barr, Odell Beckham Jr., and Brandin Cooks are off the board before the Eagles pick at 22. Lee is their fallback option and a pretty good one at that. Chip Kelly is very familiar with Lee because of his days in the Pac 12. Lee is a dynamic threat with good RAC ability (something Chip Kelly covets in WR) that has seen his stock fall due to a down year mostly because of inconsistent QB play and a lingering knee injury. Marqise Lee's inconsistent hands scare me but I think he'll break the trend of USC receivers failing in the pros and becoming a big time threat in Chip Kelly's offense.
2. (54) Jeremiah Attachou OLB, Georgia Tech:
Attachou is my favorite edge rusher in an underwhelming 2014 class. He posses the ability to convert speed to power and win in one on one situations. Attachou is a versatile athlete that is comfortable playing in space. Billy Davis will use Attachou in a rotational role at ROLB with Trent Cole which will also maximize Cole's effectiveness by keeping him fresh. Attachou's and Barwin's versatility at OLB will allow Billy Davis to use more hybrid looks on defense.
3. (86) Christian Jones, ILB, Florida State.
Jones shares a similar trait to the Eagles first 2 picks in this draft a trait that Chip Kelly covets on offense and defense, versatility. Jones is a great athlete that has long arms and is comfortable in coverage. He needs to add strength to shed blocks more consistently but has the frame to do so. I see Jones as a movable chess piece for Billy Davis because of his ability to play all 4 LB spots in a 3-4 base defense. Jones like Attachou is a rotational player in year 1 but will become a starter in place of a veteran (DeMeco Ryans) in year 2.
4. (122) Brandon Thomas, OG, Clemson.
Thomas won't offer anything year one because of his recent ACL tear. He's a 2nd round talent that will fall because of injury but I think the Eagles can stand to redshirt him this year. Thomas is a good athlete that'll excel in Chip Kelly's offense that relies heavily on athletic lineman making blocks out in space. With Evan Mathis aging and Todd Herremans declining the Eagles snag Thomas to replace one of the 2 in 2015 and my guess would be Herremans.
5. (162) Dontae Johnson CB, NC State.
The Eagles selected an NC State defensive back last year in the 5th round in Earl Wolff and I think they'll do the same here. At 6-2 200 lbs Johnson has good size and is a physical corner with long arms that'll excel in press man coverage. Johnson won't be an immediate starter but will add depth to a position that sorely needed it last season. Johnson is a versatile athlete that can play CB or S this'll allow Billy Davis to use more 3 safety hybrid looks without sacrificing coverage ability.
7. (237) Taylor Hart, DE, Oregon.
Chip Kelly coached Hart at Oregon and at 6-6 281 Hart has good size size and is a good depth option at 5 technique DE. Hart is a high effort type guy but not a great athlete. Hart doesn't offer much in terms of pass rushing ability but his familiarity with Coach Kelly and defensive line coach Jerry Azzinaro should maximize his potential at the next level.
UDFA Targets:
Jeff Janis, WR, Saginaw Valley State.
Larry Webster, OLB, Bloomsburg.
Colt Lyerla, TE, Oregon.