Merrill Hodge on Johnny Manziel: Definite Bust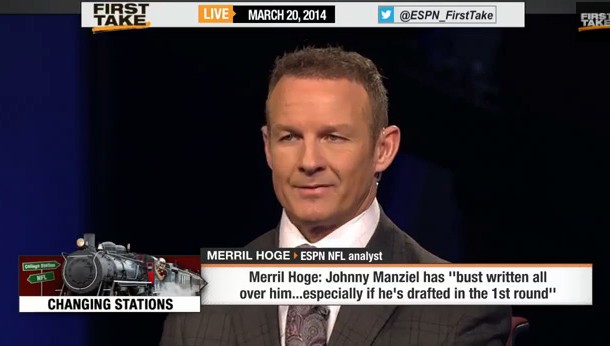 Merrill Hodge is back at it again. Today on ESPN's First Take he unleashed a diatribe on Texas A&M quarterback Johnny Manziel. Hodge said that Manziel would be a "definite bust," citing Manziel's poor timing and wild style of play.
To most people these factors are what makes Manziel the most intriguing pick in the draft because not only does he play the most important position, but he has been extremely successful playing an unorthodox style. Hodge cited the career of one Michael Vick as a likely indicator of the risk in selecting "Johnny Football" with a first round pick.
Merrill Hodge wouldn't draft Johnny Manziel until the 5th or 6th round! His comments below: