2014 NFL Draft Top 5 Rankings: Defense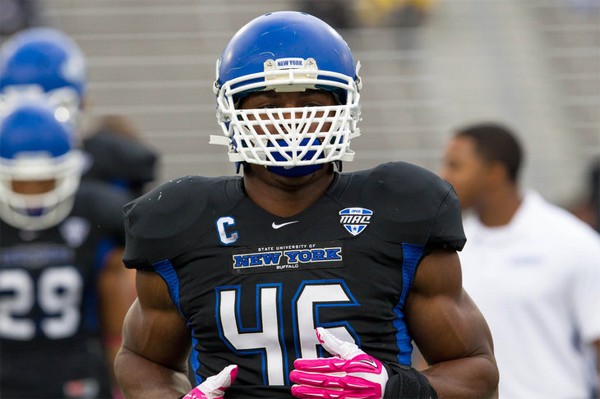 These rankings do not reflect the order I think these players will be drafted. As is the case every year some players are over-drafted and under-drafted. My top 5's consists of who I think the 5 best players are at their respective positions and where I project them to play at the next level.
Edge Rushers (4-3 DE & 3-4 OLB):
1. Jadeveon Clowney (South Carolina): A once in a generation player. Freakish athlete that can play and excel in any scheme. Can win with power, speed, or finesse. Only questions are about his effort and work ethic and those don't concern me. He's the best player overall in this year's class.
2. Kahlil Mack (Buffalo): Ideal 3-4 OLB. Has ideal arm length and size. Great in space and is disruptive as a pass rusher. Also plays the run well. Mack is a complete player.
3. Anthony Barr (UCLA): Great athlete with good size but is still new to the position so doesn't have great instincts and that shows on tape. Good lateral quickness and pursuit. High upside player but needs to develop pass rushing moves.
4. Kony Ealy (Missouri): First-team All-SEC selection. Big, long and athletic. Best fit as 4-3 DE but can play 3-4 OLB if needed. Needs to add strength to get better as a run defender. Can win with power or speed when rushing.
5. Jeremiah Attoachu (Georgia Tech): Put on his Pittsburgh tape and he looks like the best defensive player in this draft. Wins with power and speed. Long, athletic and versatile and comfortable in space. I think he'll excel as a 3-4 OLB.
Interior Lineman (3-4 DE @ 4-3 DT):
1. Aaron Donald (Pittsburgh): Ideal 3 technique in a 4 man front. He's shorter than average and wins with his speed of than snap. Can struggle at times when his quick move is stopped. Needs to add lower and upper body strength to improve as a run defender.
2. Ra'Shede Hageman (Minnesota): Ideal 3 technique. Freakish athlete who flashes his potential but wasn't consistent in college. Has potential to be dominate but needs to work on his technique or he'll be a bust.
3. Timmy Jernigan (Florida State): Can play 0 or 3 technique in a 4 man front. Run stuffer but doesn't offer much in terms of pass rushing ability. Quick enough to penetrate and make plays in the backfield.
4. Louis Nix (Notre Dame): 0 technique (Nose tackle) in a 3 man front. Great size (6'2 331 lbs) and arm length to eat up double teams and stuff the run. Quick for a guy his size and is good in pursuit chasing down ball carriers.
5. Dominique Easley (Florida): 2 ACL injuries derailed his career at Florida. If it wasn't for the questions about his health he'd be a top 10 pick. Undersized 3 technique but explosive, quick, and disruptive. Geno Atkins/ Henry Melton type player.
Linebackers (3-4/4-3 ILB & 4-3 OLB):
1. CJ Mosley (Alabama): Smart, heady football player. Good athlete and is a sure tackler. Is a leader and a player you can plug into the middle of your defense and he'll play at a high level for 10+ years.
2. Ryan Shazier (Ohio State): Undersized but has great speed when attacking the line of scrimmage or flowing sideline to sideline. Due to his lack of size and strength he's best suited as a WILL (weak side) linebacker in a 3 or 4 man front.
3. Chris Borland (Wisconsin): Undersized like Shazier but doesn't have the same speed. More a downhill thumper than a coverage linebacker. Gritty, hard nose player that'll do the dirty work and is a sure tackler. Will contribute on special teams as well. SAM (strong side) linebacker in a 4 man front.
4. Christian Jones (Florida State): Easily my favorite linebacker in this class. Solid overall player who has great versatility. Can play all 4 linebacker spots in a 3-4 defense. Is a good athlete with the size and speed to be effective in coverage and against the run.
5. Telvin Smith (Florida State): Best fit as a 4-3 WILL linebacker. Undersized so needs to bulk up to consistently take on blockers in the run game. Flies around in coverage but struggles in a man to man when facing bigger tight ends.
Cornerbacks:
1. Jason Verrett (TCU): If Verrett was 6' he'd be a top 10 pick but at (5'9 189 lbs) some teams may be put off by his size. Is great at attacking the ball in the area and high pointing the ball. The most fluid athlete at corner in this class. Verrett plays bigger than his size. Will stick his nose in in the run game and is a sure tackler.
2. Justin Gilbert (Oklahoma State): Great size and speed. Athletic enough to excel at corner and safety. Fluid athlete with good hips and quick fit in and out of breaks. Quick, technically sound back pedal.
3. Kyle Fuller (Virginia Tech): Physical press corner with good size. Sometimes overly physical in coverage but you can't fault him for that. Sure and willing tackler.
4. Bradley Roby (Ohio State): Man cover corner with great speed and good ball skills. Struggled this year at Ohio State because he was primarily used in zone coverage. Sure tacklers with quick feet. Could add strength to help him against bigger receivers.
5. Darqueze Dennard (Michigan State): Physical press corner but not a great athlete. Can be beat on double moves and has questionable long speed. Struggles to recover when beaten of the line of scrimmage. Limited in zone coverage.
Safeties:
1. HaHa Clinton-Dix (Alabama): Rangy centerfielder with good ball skills. Has an Earl Thomas type ceiling. HHCD will come down and support in the run game and can matchup man to man on receivers and tight ends in the slot.
2. LaMarcus Joyner (Florida State): Doesn't have great size but sure as hell doesn't play like it. Versatile can play free or strong safety and matchup in the slot on receivers. Aggressive hitter and a roamer type. Tyrann Mathieu type player.
3. Jimmie Ward (NIU): Best man to man cover safety in this class. Centerfielder like HHCD. Good instincts and athleticism. Lacks ideal size but can play free or strong safety. Sure tackler.
4. Deonne Buccannon (Washington State): Rangy and aggressive safety. Is a big hitter. Has good instincts to diagnose and come downhill in the run game. Can play free or strong safety.
5. Calvin Pryor (Lousiville): On tape his game has a lot of flaws. Free safety who is good in run support but a liability in coverage. Will deliver big hits but whiffs on tackles too often. Boom or bust potential. Brando Meriweather type.