Todd McShay's Latest 2014 Mock Draft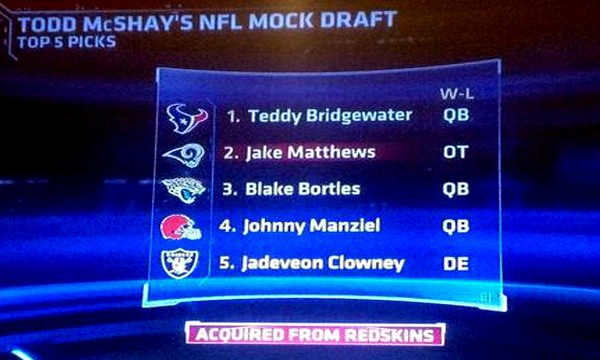 ESPN analyst Todd McShay released an updated mock draft on the heels of Texas A&M's thrilling bowl win over Duke. Johnny Manziel undoubtedly helped his draft stock in the game. He showed a lot of poise, maturity, and a sense of leadership in leading the Aggies back to get the win.
With that said, it is time for an update to everyone's mock draft! McShay has Manziel currently going #4 overall.
Here is his top 5 with my comments below each selection:
1. Texans- Teddy Bridgewater QB Louisville
Not a fan of this selection, Bud Adams seems to want a quick turnaround. Something tells me this pick is Clowney or Barr.
2. Rams- Jake Matthews OT Texas A&M
Not a bad pick. I'm sure they will trade down.
3. Jaguars- Blake Bortles QB Central Florida
Not sure about this pick either, is there a QB worth a top 5 in this draft? Jaguars would undoubtedly pick Clowney in his scenario.
4. Browns- Johnny Manziel QB Texas A&M
The Browns have no luxury of sitting out of the quarterback race. Manziel or Bortles if they're there.
5. Raiders- Jadeveon Clowney DE South Carolina
Again, a team that needs a quarterback badly. Do they reach for a Brett Hundley or Derek Carr if it pans out like this?