Jameis Winston Runs From Interview After Sexual Assault Questions
Updated: December 8, 2013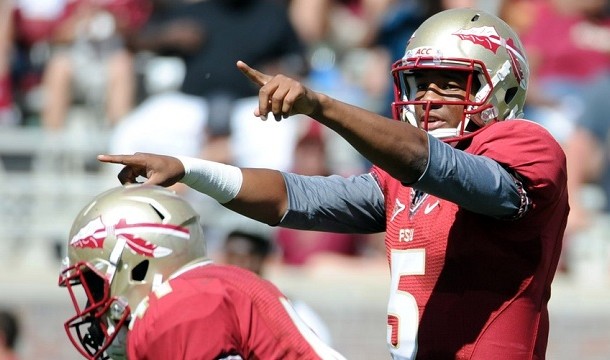 Jameis Winston and Florida State are headed to the BCS National Championship game. In an onfield interview with Heather Cox, Winston was upbeat praising his coaches until she hit a nerve about his silence regarding the sexual assault investigation.
Does an innocent man doesn't act like this? Big time concerns for an NFL franchise in my opinion.
Remember all the character issue concerns with Cam Newton allegedly cashing a few checks? Jameis isn't even feeling the media fire and is reacting like this. He likely won't ever really feel that media flame. For some reason ESPN has decided to not pursue this story as intently as the Newton story. Winning is the best media protection.
@heatherespn your actions after the game w my client were inappropriate and unprofessional. Ur actions were deliberate.

— Tim Jansen (@rtimjansen) December 8, 2013
@heatherespn when u realize ur actions were improper u can make amends. Please write me a note to Jameis and his family to apologize.

— Tim Jansen (@rtimjansen) December 8, 2013
Loving @heatherespn tonight. #notafraid

— Michelle Beadle (@MichelleDBeadle) December 8, 2013