Scouting Concerns? Tajh Boyd vs Boston College
Updated: October 14, 2013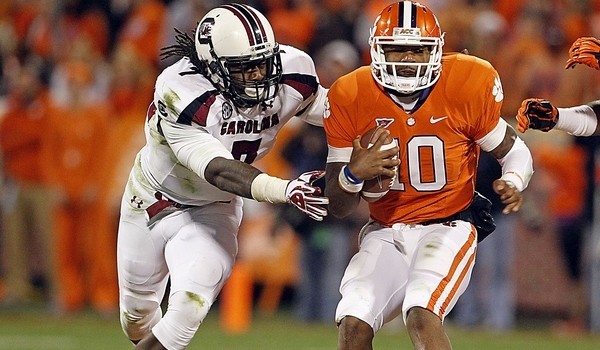 Clemson is having one of the best years in school history and that is thanks to the electrifying combination of Tajh Boyd and Sammy Watkins. Boyd is having a wonderful season on the books, posting 1700+ yards, 15 touchdowns, and just 2 interceptions.
In looking at Boyd, there is a guy he reminds me a lot of. Not necessarily in exact skill-set but in a the little nuances in his game here and there. And that player is? Vince Young.
Let me explain.
Like Young, Boyd throws the ball with a slight sidearm projection. Secondly, he's mobile but not necessarily the fastest player on the field. Thirdly, I sense a bit of the hero complex in his game. It seems that when Clemson gets down, Boyd attempts to put the team on his back and get it right back immediately when he doesn't necessarily have to with the talent around him. And of course there is always that #10 jersey.
That's fine and all when you're on a bad team but Clemson isn't bad. They have the talent to quickly get back in any game granted they execute.
The Tigers narrowly escaped Boston College this weekend, and this was the same story. Boyd finished the game with 334 yards but only one touchdown (Sammy Watkins.) Clemson managed to win the game on a 14 point swing in which Boston College committed a costly fumble that lead to a quick defensive touchdown immediately after a Clemson score.
Clemson punted four times in the second half with three drives being under two minutes, and another being two minutes 14 seconds.
Boyd is a great player, but to struggle like this against Boston College is alarming especially when Jadeveon Clowney (if he plays) and South Carolina are on your calender for November 30th.
Can Boyd get this offense firing smoothly through four quarters starting next week? I think there's just as good a chance of that as Peyton Manning playing in Super Bowl XLIX but we'll see.