Tajh Boyd Just Might Enter the Draft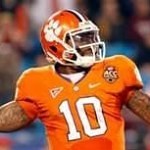 After the wonderful performance Clemson put on against the LSU Tigers in the 2013 Sugar Bowl a lot of the attention has gone to Clemson's WR DeAndre Hopkins. Hopkins will likely be a late first or second round pick in the draft but he isn't the only guy that's enter the draft early from that game. Several LSU Tigers (Eric Reid, Spencer Ware, Brad Wing, Tharold Simon , Kevin Minter) are entering the early as well but did any one expect to hear that Tajh Boyd just might make the leap?
That's right. After that red hot performance Tajh is keeping his options open and just might have to take his talents…
Tajh Boy's father says that his son will likely be back in the purple and orange next year but that he is taking a look at his NFL draft status. Advisers have told them that Tajh is a third round prospect right now (which I agree). The 6-1 quarterback's height is likely one of the factors holding him out of the earlier rounds.
All in all I'd expect to see Boyd grind out another season in school no matter how badly he may want to make the leap right now. Next year he will be among the best QB's available and the NFL will have had two seasons of Russell Wilson opening the door for the six foot passers.