Shane Carden NFL Draft Scouting Report
Updated: September 30, 2013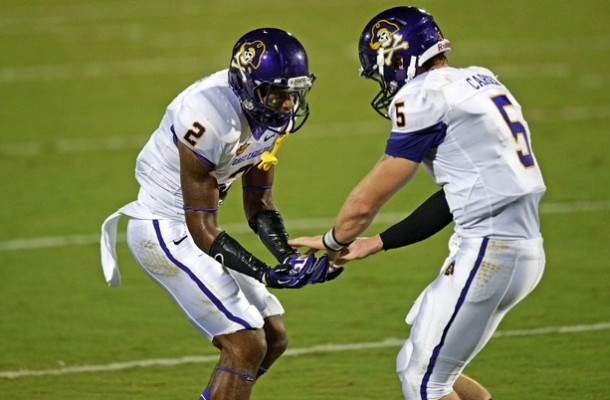 This weekend was a big weekend for not only the University of North Carolina and East Carolina University, but also the quarterbacks of such schools. The game was set to be a high scoring contest, which set things up perfectly for the quarterbacks to show their skills. Many thought that it would be UNC's Bryn Renner coming out of the game with his draft stock boosted but that didn't happen.
ECU's Shane Carden accounted for six touchdowns as ECU hung 55 points on UNC in the big win. Carden completed 32 of 47 passes for 376 yards 3 touchdowns and ran in another 3 scores on the ground. The game will give the Junior a big boost going into the second half of the season and into his Senior year.
With that said, how does he stack up as a draft prospect currently?
The positives:
Athletic, option quarterback
Not a "running quarterback" but can take big chunks when he has to (think Aaron Rodgers)
Comes from a spread option offense but throws at a respectable 70% completion rate
What can be improved:
Turns the ball over at a high rate against stiff competition
Tends to let a lot of air get under his deep ball
Doesn't stand tall to pressure, has to get more comfortable stepping up to pressure. Sidearms too many throws on the run when he doesn't have to.
All in all, with another solid year Carden projects to being a low fourth round to fifth round choice, with an outside chance of cracking the third round in next years class. He's compared to Aaron Rodgers by local reporters though personally I see more Ryan Tannehill in his game.