Skip Holtz in Danger of Being Fired From USF?
Updated: October 10, 2012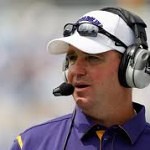 I always thought it was a bad decision for Skip Holtz to leave ECU. Though Skip has never been the guy to stay one place for too long, it really looked like he was building something special in Greenville. The team peaked to #14 in the nation, produced NFL RB Chris Johnson, and won the Conference USA.
Then… Skip decided that South Florida was a more attractive option and hit the road. And you know what they say: With big money comes big expectations.
USF has struggled, primarily due to not having a breath of talent on offense (Quarterback…) and the increased competition in the Big East.
Now it looks like Skip may be done. The school issued a very cryptic statement regarding Mr. Holtz' employment:
"I know Skip, his staff and the players are working diligently to get that next win, and to find sustained success. Certainly, the results, in terms of wins and losses to date, are disappointing to everyone involved with our program — the coaches, the players, athletic administration and our passionate fans. Our expectations for this program are very high. I also know this team has a lot of football left to play and great opportunities in front of it. We're only six games into a 12-game regular season."

"We are going to provide all the support possible for our football program, including employment contracts that reflect our commitment to success. Many factors come into play when considering contract terms, including conditions in the national coaching marketplace. In Skip's case, multiple BCS schools sought his coaching services at the end of both the 2010 and 2011 seasons. As a result, we felt it was important to maintain the stability and continuity of leadership in our football program and extended Skip's contract.

"As has been our practice in the past, we will evaluate the status of each of our 19 programs at the conclusion of their respective seasons. We'll identify where we are as a football program at that time and continue to build from there."