Why East Carolina Band Members took a Knee During the Anthem [Editorial]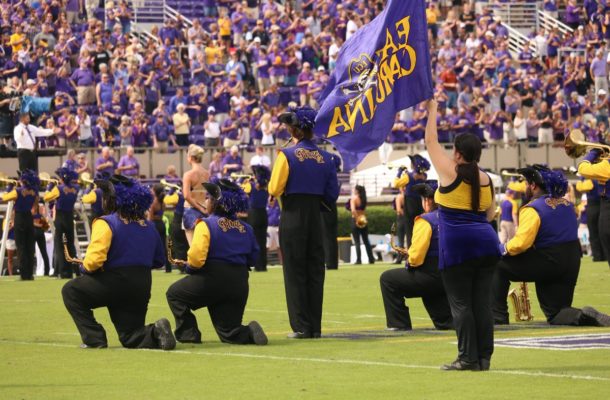 Several ECU band members have followed Colin Kaepernick's protest and of course all of sudden people want to get their panties in a bunch about it. We live in a country based off free speech… right?
So why is it an automatic outrage when someone exercises it in this manner?
Once again, these protests are not about the military or the flag. It is about unarmed black men and women being murdered by law enforcement and no one in this country doing anything about it on a legislative level. You're offended they're kneeling and guess what? They're offended people are dying for broken tail lights, selling mixtapes, having car issues, or just being black.
Here are the band members kneeling:

Here's a quick photo of #ECU band members kneeling – University just released a statement on the matter. pic.twitter.com/zeTzcsHfz0

— Tyler Graddy (@TylerGraddyKN) October 1, 2016
As an alum and former resident of Greenville I will say that my five years in Greenville I experienced the worst racism I have ever received in my life. I totally applaud these students for standing up for their rights as AMERICANS because from first hand knowledge I know how they are treated in Greenville the minute they aren't identified as ECU students.
I personally have had a crime I will not disclose happen to me directly in front of a police officer and never received justice. I know exactly why those students were compelled to knee. I know the exact mixture of emotions of helplessness, desperation, bravery and bravado that it takes just being in your skin at times at that University.
Those "offended" alums do not half of the problems some of us went through (and some still go through) living in a high crime town like Greenville as young black students. You want to fit in like everyone else but simply you are never treated as such. There is always an extra eye, an extra policy, or a flat out rejection of your presence.
If America was the place we all pretend it is to be there would be no need for symbolic gestures. There would be no need for an entire demographic of the population to feel terrorized by its own law enforcement. There would be no National Anthem written by an admitted racist and slave owner.
Until we fix these problems America, you better get used to seeing people take that knee.